As the UK continues along the roadmap to eased restrictions and the ability to travel between areas, many Brits are turning their eyes to a staycation to get a break away from day-to-day life. Experts at Evans Halshaw have analysed weather and travel data for over 1,000 popular UK holiday destinations to produce a data-led ranking of the best staycation destinations to travel to this year.
The index was calculated using the average sunshine hours and maximum temperature figures for 1,000 holiday destinations. These Top 30 locations have then been indexed by the total number of local attractions, average costs for a hotel, a pint, a litre of petrol, two hours of car parking and the total number of local EV charge points.
Top 30 staycation locations in the UK
The data reveals that Ipswich is the number one location overall with an average of 174 hours of sunshine each month and an average maximum temperature of 17 degrees. The low-cost accommodation (£702 on average) and number of things to do (246 attractions) helped Ipswich secure its spot as the best staycation destination in the UK.
The UK's 30 Best Staycations for 2021

1
Ipswich
11
Poole
21
Torquay
2
Hastings
12
Margate
22
Newquay
3
Folkestone
13
Herne Bay
23
Truro
4
Bournemouth
14
Clacton-on-Sea
24
Paignton
5
Felixstowe
15
Dover
25
Porthcawl
6
Eastbourne
16
Plymouth
26
Caister-on-Sea
7
Southampton
17
Ilfracombe
27
Bristol
8
Newhaven
18
Great Yarmouth
28
Exmouth
9
Bognor Regis
19
Minehead
29
Penzance
10
Weymouth
20
Windsor
30
St Ives
The index also named Bognor Regis and Folkestone as the sunniest locations overall, achieving an average of 194 sunshine hours each month and an average maximum temperature of 16 degrees. Whereas, Port Glasgow was named the location Brits are most likely to be rained on during a break with an average of 121 days of rainfall each year.
To explore the full Top 30 locations and to see where your favourite destination features on the list, visit Evans Halshaw.
So how much will a UK Staycation cost you?
A key consideration when visiting any holiday destination is how much it's going to cost you once you're there. In order to build this into their calculations, the automotive retailer has also factored in the average costs of the following amenities which a visitor is likely to need during their stay.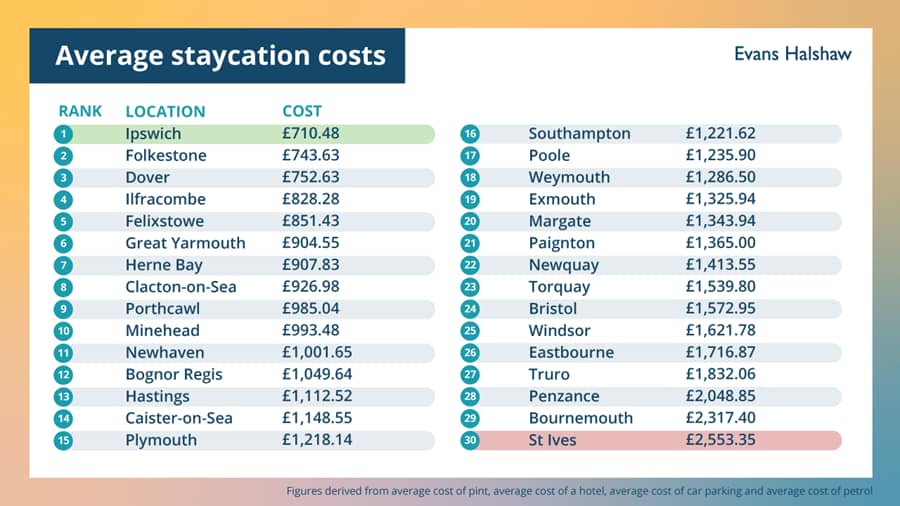 Number of attractions
Average hotel price
Average cost of a pint
Average cost of parking (2 hours)
Cost of petrol (1 litre)
Total number of EV charge points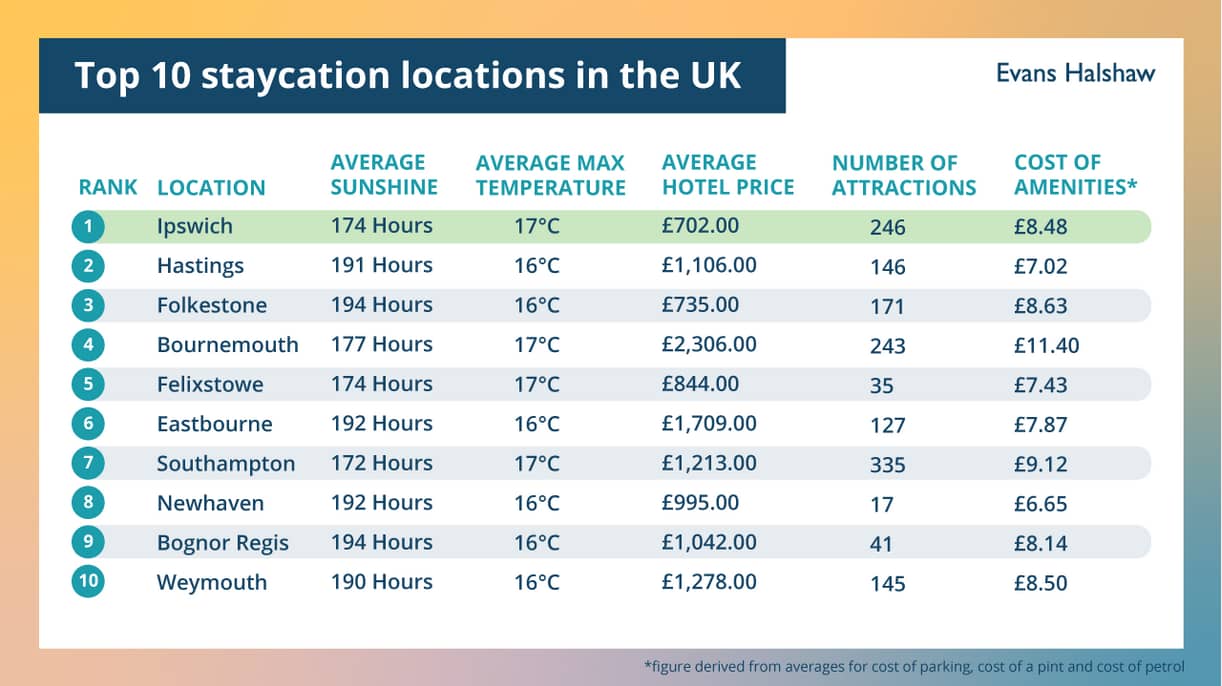 Ipswich came top of the list for the location with the most affordable accommodation, with an average family hotel stay for one week costing £702. The most expensive on the list is St Ives, setting you back £2,544 for a comparable break.
When choosing where to go on holiday many families will also need a variety of attractions to keep them occupied when exploring the local area. The research highlights that Bristol and Plymouth each rank among the best locations for things to do, offering 612 and 543 attractions respectively.
Alternatively, if holiday makers are looking for a quieter and more relaxed break, Caister-on-Sea has just nine local attractions making it a favourite among families and couples looking for quieter time away.
Driving whilst on a holiday in the UK
Another factor which has been included in the research is the cost of parking whilst on a staycation. Bristol comes in as the most expensive location, costing an average of £8.70 to park your car for two hours, whereas smaller towns such as Herne Bay and Ilfracombe will set you back just £1.90 and £0.80 respectively.
With the popularity of electric vehicles continuing to grow, Evans Halshaw have also considered the number of charging points available in these locations. Bristol (20 charge points), Southampton (16 charge points) and Bournemouth (10 charge points) hold the top three positions for the best locations with plenty of vehicle charging points. This is likely due to their larger populations and gives drivers the added confidence knowing they're never far from a charging location.
Kim Costello, Chief Marketing Officer for Pendragon, which owns Evans Halshaw said, "With continued restrictions on international travel many people will be considering a staycation this year rather than travelling abroad. Our data helps to highlight some of the UK's favourite holiday locations, as well as, unveiling a number of hidden gems which offer a great alternative to the traditional British break."
"Before heading on a road trip this summer we'd encourage drivers to complete a few simple checks on their vehicle including: tyre pressures, fluid levels, battery charge and brakes. For added peace of mind, drivers can book into their nearest Evans Halshaw retailer for a complimentary vehicle health check to ensure their vehicle is in good working order before travelling."