The Docks' annual celebration of historic and traditional boats
Central London's only marina, St Katharine Docks, is hosting its 9th annual celebration of colourful classic boats this September, set to be bigger and better than ever before with a display of over 40 vintage sailing and motor boats, in addition to a range of waterside activities and attractions.
Providing a fun day for the entire family, the Classic Boat Festival will take place from 8 – 10 September and is one of the highlights of Totally Thames Festival, a month-long season of river-related events taking place along the 42-mile London stretch of the Thames.
The Classic Boat Festival will invite Londoners to feel as if they have stepped back in time with the display of beautiful vintage boats, as well as providing opportunities for visitors to talk to the boat owners and even climb on board. Key vessels include 14 of the Little Dunkirk Ships, former London Fire Brigade fireboat the Massey Shaw, the Queen's Royal Rowbarge Gloriana in celebration of her Diamond Jubilee, and Portwey, the only twin screw, coal fired steam tug that remains active in the United Kingdom.
There will also be an exciting programme of events and nautical stalls including delicious street food and drink, waterside activities including free Stand-up Paddle Boarding and Canoe taster sessions in the marina and children's activities from the team at Sharky & George including an Explorer Treasure Quest, Pirate Sword Decorating and Flag Decorating. There will also be a variety of live music with the National Youth Jazz Orchestra and Barnet Hill Life Boat Crew sea shanty singers providing entertainment throughout the weekend.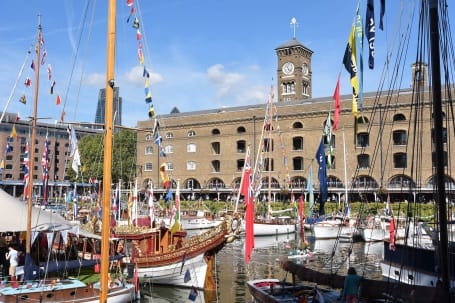 Source: Classic Boats MR
This year the Docks will also host 'Future Dust', a large-scale art work made from plastic debris cleaned from the over 40 beaches along the tidal River Thames by Maria Arceo as part of the @Thamesplastic project commissioned by Totally Thames 2017 which aims to raise awareness about plastic pollution in the river Thames.
Classic Boat Festival Programme
Across the weekend
Classic Boats: Climb on-board and explore over 40 vintage work boats and sailing and motor yachts including Little Dunkirk Ships and much more. 12:00 – 18:00 daily in the Central Basin
The Marketplace: Featuring organisations from the river, family activities, a food market and live entertainment. 12:00 – 18:00 daily on Marble Quay.
Moo Canoes: Moo Canoes will be running taster canoeing sessions within the safety of our marina. 12:00 – 18:00 daily, 9 and 10 September.
'Future Dust', Plastic Art Piece: Since September 2016, Maria Arceo has been collecting plastic from over 40 beaches along the tidal Thames.
Beachcombing, handpicking, identifying, and colour-coding found plastic debris, Arceo has created a final art piece that aims to visualise the scale of plastic litter that is found along the shores of the tidal river. The installation will be hosted at St. Katharine Docks throughout the Festival.
Source: Massey Shaw
Explorer Treasure Quest: Pick up a map and race to see who can complete the Explorer Treasure Quest in the quickest time! 12:00 – 18:00 daily, 9 and 10 September.
Sharky & George Pirate Kids Club: The wonderful team from Sharky & George will provide a range of children's activities and crafts. 12:00 – 16:00 daily, 9 and 10 September on the Floating Pontoon, Central Basin.
Saturday
Barnet Hill Life Boat Crew Sea Shanty Singers: From 11am throughout the day, Various Locations
The Great River Race: Head down to the Riverside and cheer on the 330 crews participating in London's River Marathon! 13:00 – 14:00
Sunday
Stand-up Paddle Boarding: Try the world's fastest growing watersport here at St. Katharine Docks with free taster sessions on the water. 12:00 – 18:00
The National Youth Jazz Orchestra: 12:30 – 13:30 & 15:30 – 16:30, Marble Quay