South Western Railway (SWR) has confirmed 21 additional services from London Waterloo in the early morning of Sunday, 1 January, New Year's Day.
These limited, extra services will allow customers to travel back from New Year's Eve festivities in the capital, which will host its first New Year's Eve fireworks since 2019.
As a limited timetable is being operated due to RMT industrial action, services into London Waterloo will end by 2200 on Saturday 31 December, with some London-bound trains departing much earlier.
The 21 additional services out of London Waterloo will then begin from 0030 on Sunday 1 January with the 21st and final service leaving at 0315.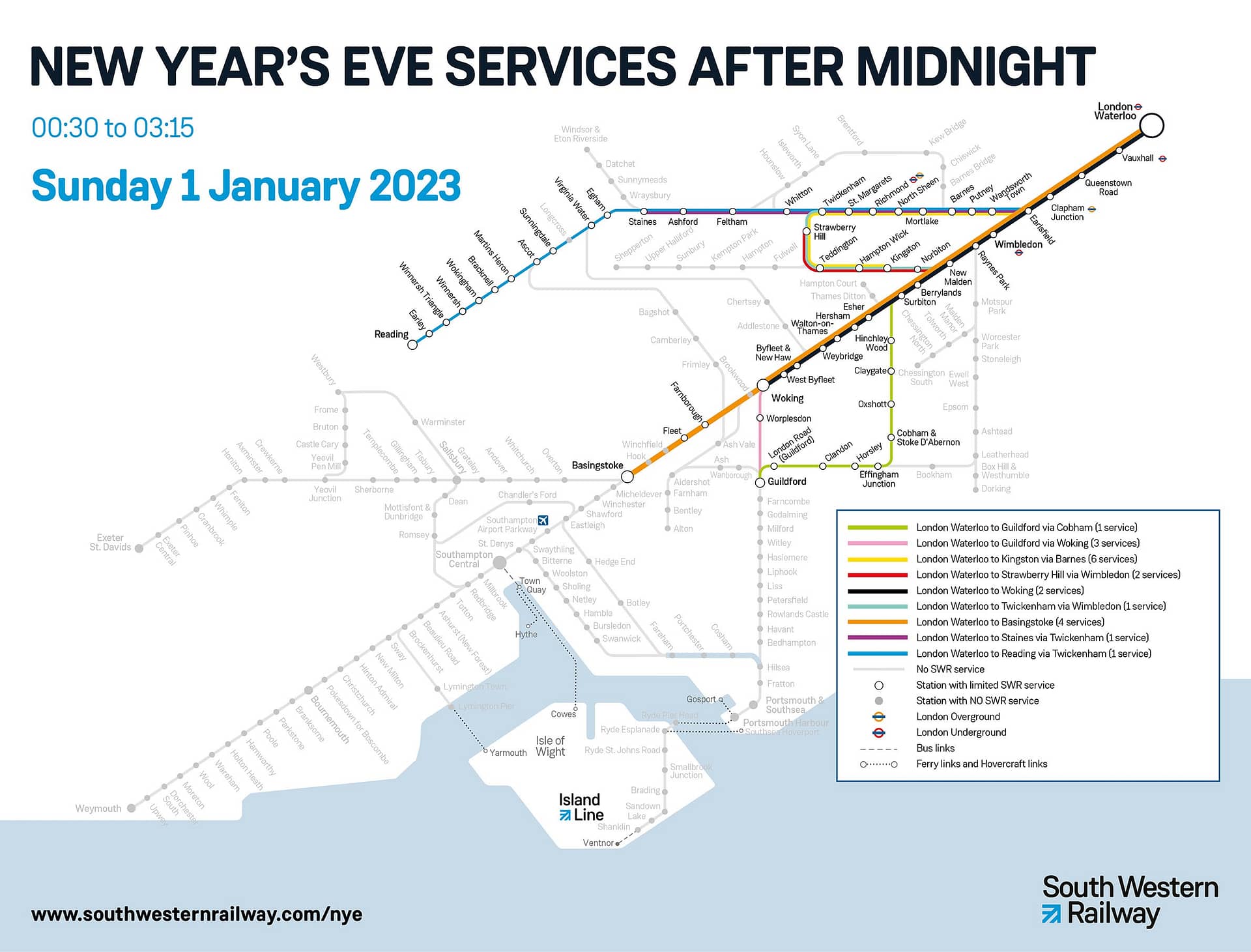 Those services will run to Basingstoke, Guildford, Kingston, Reading, Staines, Strawberry Hill, Twickenham and Woking. Customers should check journey planners before travelling for more information as trains will have differing calling patterns.
Claire Mann, Managing Director, South Western Railway, said, "We're very pleased to confirm these limited, extra services for our customers. It's been three years since the traditional New Year's Eve fireworks in London and we know just how important this occasion will be.
"Anticipating the demand for this special occasion, we've worked hard to ensure as many customers as possible can take part in the festivities.
⚠️ Industrial action will cause disruption to services until Sunday 8 January 2023.

Please see the calendar below for a day-by-day summary of the travel advice for this period.

For more information on the services running on each day, please visit: https://t.co/E38XKg3d5B pic.twitter.com/Fg7xxtg89o

— SWR Help (@SW_Help) December 27, 2022
"We're advising customers looking to travel on these extra services to check both parts of their journey carefully. These services will be very busy after the fireworks and we're working with Transport for London and British Transport Police on a queueing system at London Waterloo.
"As per our amended timetable, services into London Waterloo will end by 2200, but some of those trains will start their journeys a lot earlier.
"After 2200 there will be a gap of two and a half hours before the first of the extra trains out of London Waterloo, with the last leaving at 0315. Please do check carefully and if you're travelling, we hope you enjoy the festivities."
The 21 additional services on the morning of Sunday 1 January 2023 are as follows:
Suburban services
0033 London Waterloo to Guildford (via Cobham)
0040 London Waterloo to Guildford
0042 London Waterloo to Strawberry Hill (via Wimbledon)
0050 London Waterloo to Woking
0115 London Waterloo to Guildford
0142 London Waterloo to Twickenham (via Wimbledon)
0215 London Waterloo to Guildford
0245 London Waterloo to Strawberry Hill (via Wimbledon)
0315 London Waterloo to Woking
Mainline services
0105 London Waterloo to Basingstoke
0135 London Waterloo to Basingstoke
0205 London Waterloo to Basingstoke
0305 London Waterloo to Basingstoke
Windsor Line services
0030 London Waterloo to Kingston
0035 London Waterloo to Reading
0055 London Waterloo to Staines
0100 London Waterloo to Kingston
0130 London Waterloo to Kingston
0200 London Waterloo to Kingston
0230 London Waterloo to Kingston
0300 London Waterloo to Kingston
Please see the attached map of the services after midnight.
Customers are advised that these services are expected to be very busy.
For more information on these additional services, visit https://www.southwesternrailway.com/nye.
Due to industrial action, a reduced service will operate on Sunday 1 and Monday 2 January. On Sunday 1 services will start much later than usual. Customers should check before travelling using journey planners