The Health Secretary said on Sunday speaking to Sky's Sophy Ridge, he does "not want to have to take away exercise as a reason to leave home."
The Department for Health announced on Sunday that a further 621 patients have died across the UK, bringing the total to 4,934.
The department said, "As of 9am 5 April, a total of 195,524 people have been tested of which 47,806 tested positive."
Matt Hancock said if people continue to break the law and do not follow the rules, then the government "might have to take further action."
Hancock said, "We've said it's okay to get some exercise, I don't want to have to take away exercise as a reason to leave home if too many people are not following the rules.
"Let's not have a minority spoiling it for everybody."
Hancock said that "nobody should be going out to sunbathe in public spaces."
LondonLovesBusiness journalist walked around Battersea, in South West London and was horrified to see people "quite literally brushing shoulder to shoulder with other members of the public."
Social distancing measures by a minority are being ignored, and some sunbathers can still be seen, despite Hancock's warning on Sunday.
Our reporter spoke to a lady who lives on the River Thames in Battersea. She spoke though her ground floor flat window and said, "I am 73 and I cannot go out, given my age. I sit here by my window and in one hour I have counted 273 people.
She added, "I have not a lot else to do, I am horrified that these youngsters are walking so closely with each other.
Fighting back the tears, she said, "They are potentially going to kill people, people like me."
The Met Office said that parts of the UK could see temperatures soar to 21C on Sunday, with blue skies and sunshine forecast for much of the day across the country.
However, the police are telling people to stay at home, and only go out if absolutely necessary, such as shopping, exercise and to apply social distancing.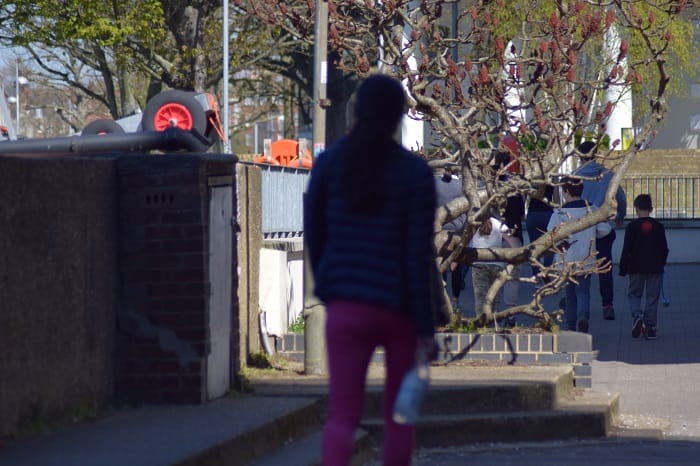 This comes after many people are ignoring the governments advice, which is "backed up in law" as groups of people are still gathering in parks and other public spaces.
The Metropolitan Police were contacted for a statement.