Crude oil prices have declined since the beginning of trading on Wednesday, currently hovering around $89.50 per barrel, following a continuous rise that saw crude oil prices reach their highest level in 10 months earlier this week.
This drop was a result of price reaching a buying peak and markets pausing their ascent ahead of the Federal Reserve's meeting, where interest rates will once again be discussed. Brent crude is also trading at around $92 per barrel today, having surpassed $95 per barrel yesterday.
I believe that the rise in oil is taking a brief pause as markets await a pivotal decision from the Federal Reserve that could tip the balance between whether the U.S. economy experiences a soft or sharp recession.
I anticipate Brent crude returning to levels around $100 per barrel, coinciding with increasing market concerns about the limited oil supply for the remainder of the year due to OPEC+ continuing its voluntary production cuts.
The supply shortage has also been reflected in the futures market, with prices trending further downward as Brent's rapid decline amounts to approximately $1.20 per barrel, up from just $0.60 per barrel at the beginning of last week.
In my opinion, if there are no surprises from the Federal Reserve today, attention is likely to return to the supply shortage once interest rate decisions are released, and the possibility of reaching $100 per barrel remains on the table.
It's worth noting that 12-month Brent crude price forecasts have increased from $93 per barrel to $100 per barrel, and I now expect a more severe inventory shortage in the United States. The main reason for this is that the significant reduction in OPEC supplies and increased demand are offsetting the large increase in U.S. supplies.
Additionally, crude oil prices have recently benefited from an additional factor – a decrease in crude oil inventories in Cushing, Oklahoma, which has brought total crude oil quantities there close to their minimum levels. According to recent reports, Total Energies is buying all the U.S. crude oil it can due to this shortage, leading to a general increase in crude oil prices.
I see the current rise in oil prices conflicting with the Federal Reserve's plans to halt interest rate hikes. The Wall Street Journal noted in a report that rising oil prices could lead to higher energy bills, fueling inflation rates, which, in turn, could encourage the Federal Reserve to raise interest rates further.
Technical analysis of the Crude Oil (WTI) price
From a Technical Perspective, Crude Oil Prices Dipped This Morning, But They Still Seem to Carry Positive Momentum After Failing to Break Below the Support Between $88.60 and $89.60.
Additionally, the U.S. Dollar Started the Week Slightly Weaker, but It Appears to Be on the Verge of a Recovery, and a Stronger Dollar Index (DXY) Could Have a Significant Impact on the Continuation of Oil Price Increases.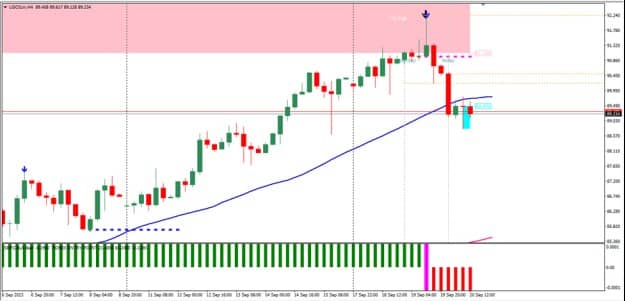 Crude Oil (WTI) Price Chart – MT4 Platform from XS.com
After dropping toward the $90 per barrel level last Thursday near the upward trendline, we witnessed the resurgence of an upward trend in oil on Friday.
This was especially notable as oil prices approached the overbought zone according to the Relative Strength Index, and the possibility of prices returning to test these levels near $92 before heading down toward the support between $78.78 and $77.60 per barrel is another technical concern.
I believe that as long as the price remains trading above the 200-day moving average near $78.78 and doubts persist regarding further production cuts, a deep retracement below the $88 per barrel level is likely to remain out of reach in the short to medium-term.