New research by Ipsos in partnership with Sky News, taken 22 – 24 August, shows high levels of public concern about the rising cost of living, with one in three saying it has been difficult to afford their energy bill before the expected further rise in the energy cap.
One in three say it has been difficult paying their bill
32% of Britons tell Ipsos it has been difficult for their household to afford paying their energy bills in the past three months.
This rises to 47% among those in households earning less than £20k a year and 38% among those in households earning £20k to under £35k.
Families have also struggled. 37% of those with children in the household say it has been difficult paying their bills.
In this context, it is no surprise than 9 in 10 (92%) are concerned about the impact of the rising cost of living on the country as a whole (up 3 points from May), 88% are concerned about the impact on themselves personally (+5 pts) and 84% are concerned about the impact on people in the area they live (+5pts).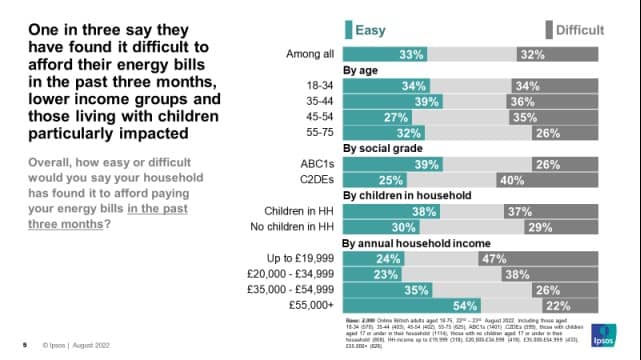 What are Britons doing / do they expect to do in response?
As concern remain sky-high, we see Britons take their own steps to reduce their own cost of living. Since the start of the year, people are most likely to have started going out socialising less (54%), changed their regular supermarket to a cheaper alternative (49%) or driven their car less (48%) in response.
Meanwhile, not turning the heating on when they normally would have (47%) and using price comparison websites to find cheaper energy suppliers (43%) are also popular actions.
Looking forward, 3 in 10 workers expect to work more hours at their current job because of the rising cost of living, while the same proportion of Britons in general expect to sell some of their personal belongings (30%).
Around 1 in 5 of those already in work may take on a second job (21%) while similar proportions will ask for a pay rise from their employer (20%) or (if not in work) seek employment/get a job (18%).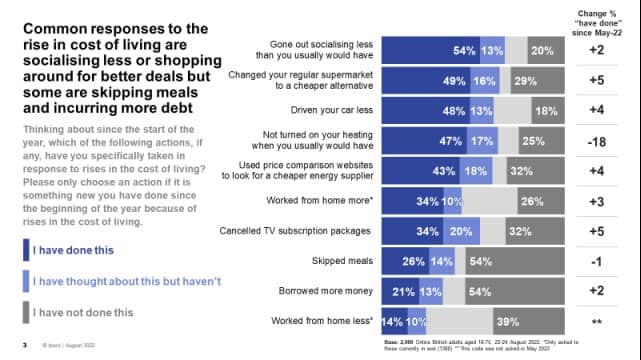 How are Britons trying to reduce their bills?
Meanwhile, over the past 3 months, Britons have been taking specific actions to reduce their energy bills / save money generally. Almost 9 in 10 have been turning lights off when leaving a room (87%) at least once a week, while three-quarters have turned electrical goods off when not in use (75%).
Around 2 in 3 are using less hot water (67%) at least once a week and half are not turning their heating on when they usually would have (49%) at least once a week.
In an effort to try and reduce their energy bills, 4 in 10 (39%) have used price comparison websites to look for a cheaper supplier in the last 3 months while 36% have installed a smart meter at home.
Three in 10 (29%) are using savings to pay an energy bill while around 1 in 5 have either asked for a pay rise (21% of those currently in work) or set up a payment plan with their energy supplier (20%).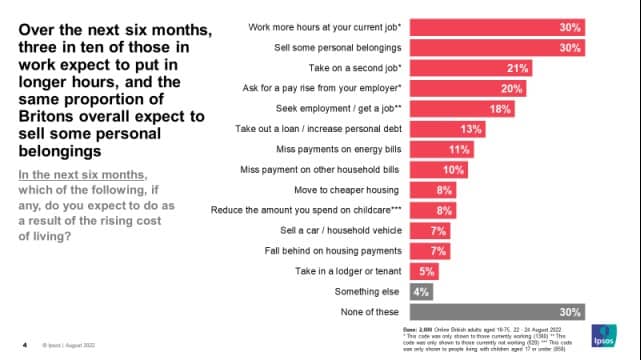 Which policies are supported by the public?
While many have discussed the best ways to help the British public cope with the rising cost of living, freezing the energy price cap at its current level is the most popular in this poll with 65% selecting it as one of the best solutions, while almost 6 in 10 say the same for cutting VAT on energy bills (57%).
Half support imposing a one-off tax on energy supplier's profits (50%) while around 4 in 10 are in favour of extending government-funded discounts on energy bills (41%), removing the green levy on energy bills (40%) or providing additional support from government to people on benefits and pensioners (40%).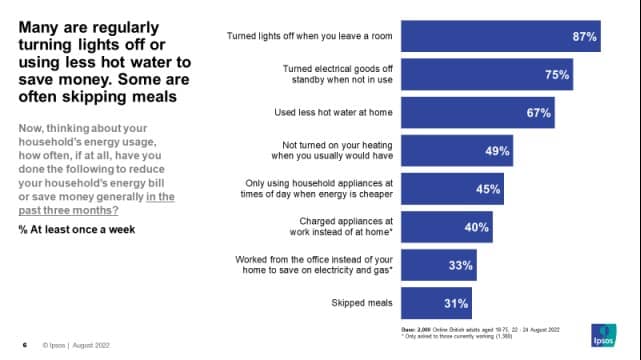 Who would you trust to reduce cost of living?
While all individuals included in the poll are not trusted by a majority of people, Keir Starmer is slightly more trusted than either of the potential Conservative Party leaders, or the outgoing Prime Minister Boris Johnson.
While 4 in 10 (39% vs. 51% who distrust) trust Starmer to reduce the cost of living, 36% say the same for Rishi Sunak (55% don't trust), 32% for Boris Johnson (62% distrust) and 28% for Liz Truss (61% say they do not trust her).
Kelly Beaver, Chief Executive of Ipsos in the UK and Ireland, said, "We've known for some time that the public are concerned about the rising cost of living but these findings highlight the extent of that concern.
"One in three are finding it difficult to pay their bills before the new price cap is set, with families and lower income households particularly affected but not the only ones.
"So government and policy makers should be left in no doubt as to the scale of the challenge we face this winter."