The Met Office have issued a further yellow weather warning as central parts of England and Wales are to be hit the worst affected with snow, rain and ice.
The Met Office have warned that rain will turn to sleet and the snow on Saturday across the South West and Wales.
The warning for Saturday reads, "An area of rain pushing in from the south-west overnight will turn to sleet and then snow during the course of Saturday morning, before the band stalls and starts to move south again in the afternoon as it eases.
"A few cm of snow are possible at low levels, but more persistent snow is expected across Wales and some hills elsewhere, with 3-7 cm of snow possible above 150 m elevation and 10-15 cm over higher ground (above 250 m), mainly in Wales.
"There is also a low chance of around 20 cm over the higher routes in the Brecon Beacons."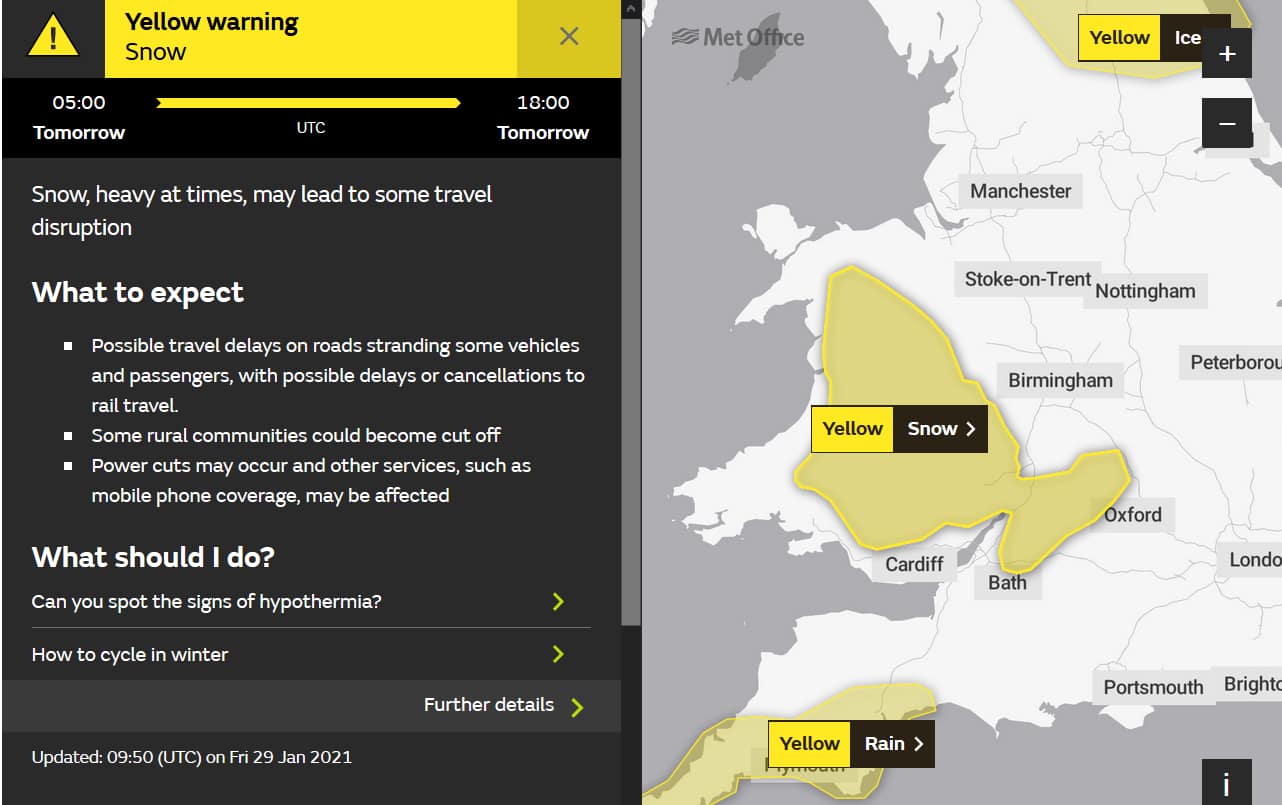 The Met Office warning for Monday reads, "A band of rain, locally heavy in places, is likely to push slowly northeast across Wales and England late Monday.
"As this rain comes into contact with cold air in place, it is likely to readily turn to snow across parts of Wales, the Midlands, and later parts of northern England. 1-4 cm of snow is quite likely away from coasts, with 5-10 cm possible above about 150 metres.
"As well as snow, a period of freezing rain is possible for parts of east Wales and the West and South Midlands. Snow should turn back to rain from the south, lasting longest across parts of northern England."
There is possible disruption to travel and the warning is in place from 9pm on Monday to 11:30 on Wednesday.
The Met Office's long range weather forecast says, "Going into next week, it is likely that unsettled conditions will dominate, with low pressure systems moving in off the Atlantic.
"The weather will be changeable. Periods of rain or wintry showers, and strong winds are likely, especially in the west, with brief more settled spells in between.
"Westerly or southwesterly winds during this period will bring milder conditions to most areas, but occasional interludes of cold northerly winds are possible.
"It will be on this boundary between the colder and milder airmasses where any snowfall to lower levels could possibly occur.
"Towards the end of this period, we may see high pressure build over the north of the UK, bringing colder conditions and wintry outbreaks."