It's now more likely than not (62%) that Conservative MPs will trigger a vote of no-confidence in Boris Johnson this year.
In the event of a vote, our market puts the result on a knife-edge, with a 53% chance that Johnson would lose it and be ousted as Conservative leader.
Consequently, the likelihood of Johnson remaining Prime Minister to 2024 is now at its lowest point since the local elections in early May (41%).
Jeremy Hunt's prospects have improved in the race to succeed Johnson as Tory leader and he now stands at an all-time-high price of 15%.
The Foreign Secretary Liz Truss (12%) and Tom Tugendhat (11%) are narrowly behind.
Long-time market favourite Rishi Sunak saw his probability drop to as low as 5% earlier this month but has since rebounded to 9%.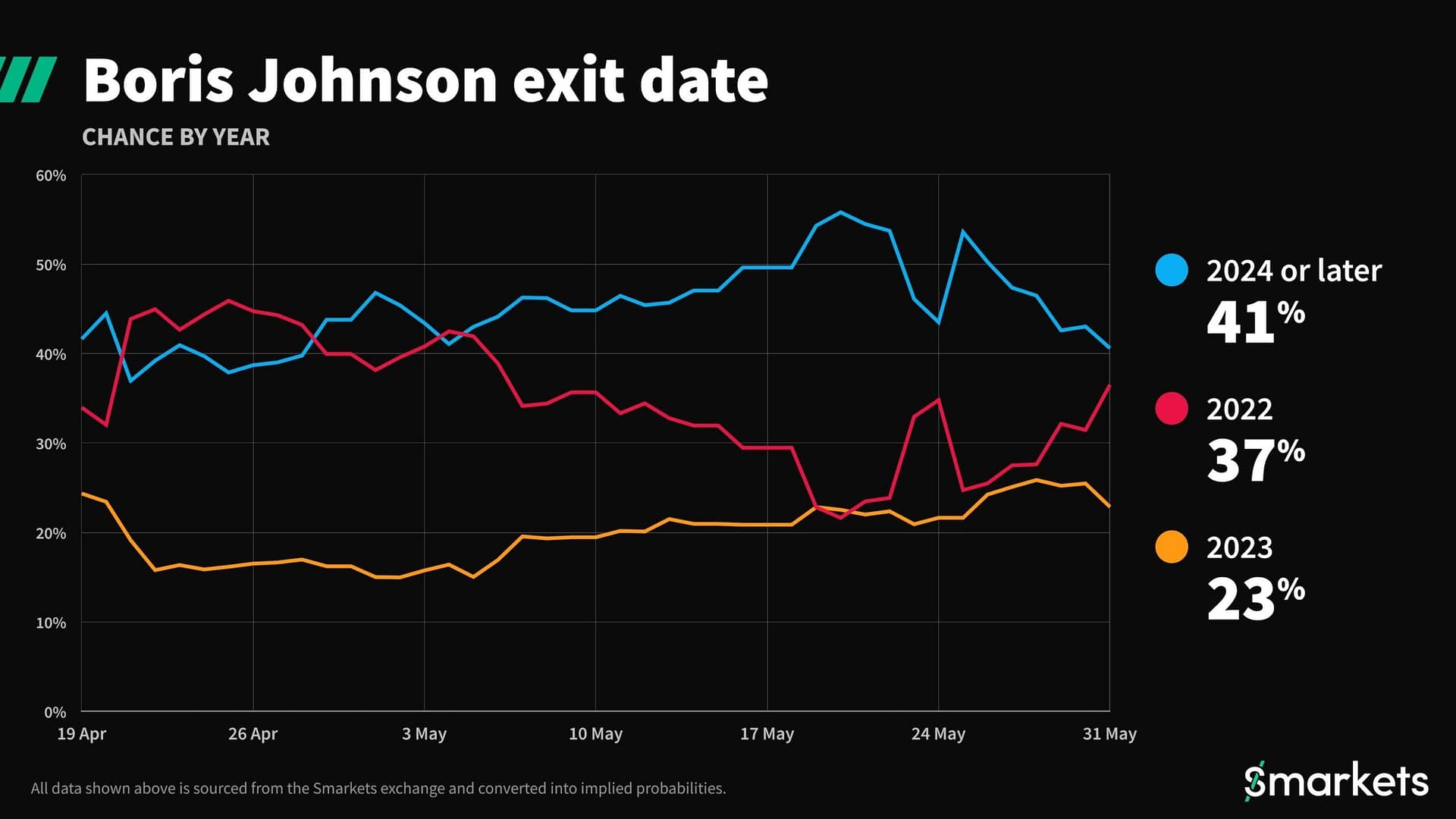 Patrick Flynn, Smarkets Political Analyst said, "There was a prevailing sense among political journalists, and the betting markets, that Boris Johnson's position as Conservative leader looked more secure after the damp squib Sue Gray report, with the chance of the Prime Minister leaving his post falling from 36% to 22% after its publication.
"However, a trickle of public criticism of Johnson from Conservative MPs over the last week has now turned into a stream, and rumours are abound in Westminster that the threshold of 54 letters requesting a vote of no-confidence in the PM has been reached.
"Momentum seems to be moving in one direction, and a confidence vote could turn wavering MPs against the Prime Minister. MPs, especially those in marginal constituencies, may fear that if they don't get rid of Johnson this year, they may end up with an unpopular leader taking them into a general election, potentially putting their seats at risk."