4G finally lands tomorrow. But critics worry the network could bring down existing ones and be too costly to run
Follow me: @shrutitripathi6 and @LondonLovesBiz
If you're thinking of buying the iPhone 5 on its launch day of September 12 then there's a killer feature in store for you. It's – drumroll please – the 4G feature.
The launch is timed to perfection – is the day after T-Mobile and Orange (merged as Everything Everywhere) turns on the nation's first 4G network.
The UK will finally join the US, Japan and China in the 4G era.
So should you be hyperventilating with excitement? Yes, according to the mobile industry, 4G has been hailed the "Holy Grail of mobile internet", the next big thing to hit our smart phones.  
It is the fourth-generation of mobile internet access which will be seven times faster than the existing 3G network. We are talking download speeds of 20Mbps – faster than we get for our home broadband. Across the pond, customers of the network giant, Verizon, already enjoy speeds of up to 25Mbps, while the average speed is around half of that (in the UK the average 3G speed is 2.1Mbps).
4G technology is also known as Long Term Evolution or LTE. Another technology, Wimax, also delivers fast speeds, but since it uses super-powered Wi-Fi, rather than normal telephone technology, purists argue it doesn't deserve the 4G title (and you won't be seeing WiMax 4G in the UK anytime soon, only LTE).
The network operators have been trying to launch 4G networks for some time now. Everything Everywhere was the only network provider with surplus spectrum, so it won the race leaving competitors Vodafone and O2 choking on sour grapes (we'll come to that later). However, Ofcom ordered the telco to divest portions of it 4G spectrum to Three to fulfill commitments given to the European Commision when it approved the Orange – T-Mobile merger.
High on clinching the 4G deal, Everything Everywhere has since been banging its drum about the "economic benefits" 4G will bring to the UK.
Max Taylor, director of corporate marketing at Everything Everywhere says 4G will "bring £5.5bn direct investment in the UK and create 125,000 jobs by 2020." But we couldn't get Taylor to give us any details on the price, date and devices the company plans to roll out over the next year.
We do have one insight, though. A trial in the Cumbrian village of Threlkeld gave locals the chance to play with 4G dongles.
So, is it fast and furious or all a damp squib?
James Walker, director of Walker Ellis, a Cumbria-based photography company which has been trialling Everything Everywhere's 4G USB dongle is impressed.
He says that on a 3G broadband network, it takes 5-6 hours to upload a 6GB file as opposed to 1.5 hours on a 4G connection. With a 4G connection, Ellis enjoys download speeds of up to 20 Mbps and upload speeds of 15 Mbps.
 "We are a commercial photography and graphic design business and we send large files to clients day in and day out," says Walker. "As we're based in Cumbria, which has a history of poor internet connection, the 4G connection has really helped us in making uploading and downloading much faster which is great for our business."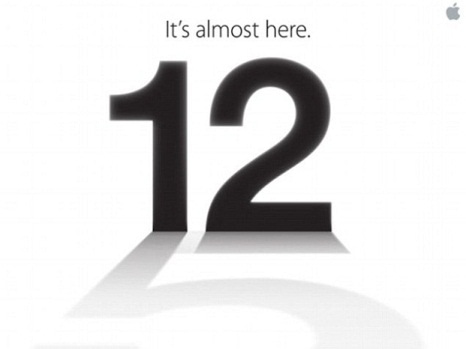 Premium prices
So what's it going to cost to be one of the first 4G users?
Truth is we have little guidance yet. As Everything Everywhere has the exclusive rights to roll out the services, it will no doubt come at a premium.
Walker, from Walker Ellis photography, says the company will consider switching to a 4G connection only if it's competitively priced.
"We spend £45 for our mobile broadband. If 4G is priced thrice of that amount, we wouldn't upgrade to the new network. Also, we'll take into account other factors like how good the 4G coverage is in the rest of the UK, whether our clients really lap up the service and how fast it is when the network starts getting a lot of traffic."
Tim King, chief technology officer of app toolkit vendor 5app, agrees: "The success of the service goes back to cost. Obviously the operators have to initially invest in the new equipment to provide the service but if they try to claw back that cost with aggressive pricing, I don't think the consumers are going to pay."
Bad lines and congestion
Then there's the network's performance. Chris Moore is sales and marketing director at One Horizon Group, a company that specialises in increasing mobile bandwidth. He believes the biggest challenge for 4G would be to deal with the traffic. "The first priority for any cell tower is to transmit voice calls, over texts, picture uploads or music streaming. And the main reason why a consumer would pay for using 4G is to get fast internet speeds while playing games, uploading photos on Twitter and Facebook and streaming HD videos. All these activities would take up a chunk of airwaves and might interfere with voice calls."
We put this concern to Max Taylor of Everything Everywhere: "Yes, when 4G launches in full swing, it will have a bearing on traffic but we've taken that into account and are building the required infrastructure to serve our customers."
Battery
Another issue Moore highlights is that of phones not having the requisite battery life to exploit 4G services fully. "If consumers watch HD videos, play games, use apps et al, surely they'd either have to have a killer battery back-up or carry a charger around, which won't be ideal."
The high resolution screen on the iPhone 5 will eat battery, and buyers would be wise to research how long the battery lasts. Anything less than a full day on normal usage will be a deal-breaker for many.
The alternatives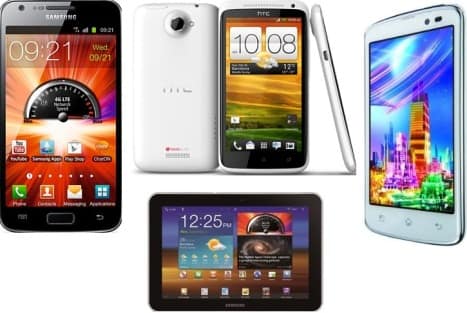 If you aren't an iPhone fanboy you will be relieved to learn there are other handsets running 4G.
According to tech website ZDnet, the following four devices will have 4G the day Everything Everywhere opens the 4G tap:
Samsung Galaxy Tab 8.9 P7320 4G LTE 
LG Optimus True HD P936
Samsung Galaxy S II LTE 9210
The HTC One XL (available in the UK by online retailers)
Also, Nokia and Blackberry have launched 4G-enabled mobile phones in the US and can therefore be expected easily penetrate the UK 4G market by making a few tweaks.
What about the other networks?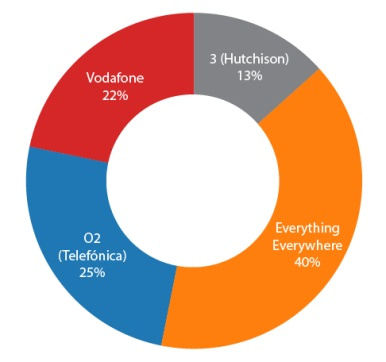 Source: Wireless Intelligence
O2 and Vodafone were furious when Ofcom approved Everything Everywhere's early 4G launch. However, a second auction for spectrum will take place in spring 2013, giving both operators the chance to enter the market place.
Will Everything Everywhere's first mover advantage be decisive? Historically, it hasn't proved so.
Joss Gillet, senior analyst a telecoms researchers Wireless Intelligence wrote in a recent report: "TeliaSonera launched the world's first LTE networks in Sweden and Norway in late 2009. But despite this first-mover advantage, the operator's early LTE adoption was dampened by a lack of compelling LTE devices, expensive tariffs and limited network coverage."
Gillet predicts that the company can learn from TeliaSonera's experiences and offer "innovative pricing structures and attractive smartphone models" that would make 4G services an attractive buy to customers in the UK.
Wireless Intelligence also projects that by the third quarter of 2013, Everything Everywhere will account for a 40% share of the 4G market share in the UK. While O2 will take up a 25% market share, and Vodafone and 3 will grab 22% and 13% respectively.
But in 2007 a Which? survey concluded that customers traditionally don't like changing network providers, so Everything Everywhere might have to really push the envelope to keep a dominant market share.
All said and done, there's no doubt that when it comes to the need for internet speed, we have a dog's appetite. For some folks, fast is never fast enough.