It's a different day for the cryptocurrency market as Bitcoin and most other Cryptocurrencies are experiencing a sharp increase in trading since yesterday. The price of Bitcoin started trading today, Wednesday, at $27,711.
The fear and greed index has also moved out of the fear zone by several points and is currently at 42/100.
It's worth noting that yesterday, Bitcoin led a surge in cryptocurrency prices after a US court supported Grayscale Investments (GBTC) against the Securities and Exchange Commission regarding the company's request for a Bitcoin ETF. This came after the Treasury Department proposed new rules for cryptocurrency taxes last Friday.
Starting in 2026, cryptocurrency currency exchanges will provide annual 1099 reports to the IRS and taxpayers, disclosing total transactional revenue. In 2027, companies will be required to report the amount customers paid for cryptocurrency assets or their cost basis. This move is expected to provide credibility and significant investor confidence in the cryptocurrency markets.
I believe that court decisions and positive legal news related to cryptocurrency assets like Bitcoin will undoubtedly impact their prices. The court's support for the Grayscale ETF is seen as an encouragement for further institutional investment products for cryptocurrencies.
This could lead to increased interest from investors and major institutions in the market, potentially driving up demand for Bitcoin and other Cryptocurrencies and assets.
However, it's important to note that the impact of this news depends on various factors, including general economic conditions, developments in regulations related to cryptocurrency markets, and technical factors within the market.
It's also crucial to recognize that the price of Bitcoin is subject to extreme volatility and rapid changes regardless of individual news events. Below is a technical overview of Bitcoin's price movement, which is leading the cryptocurrency markets after this significant surge in the past few hours.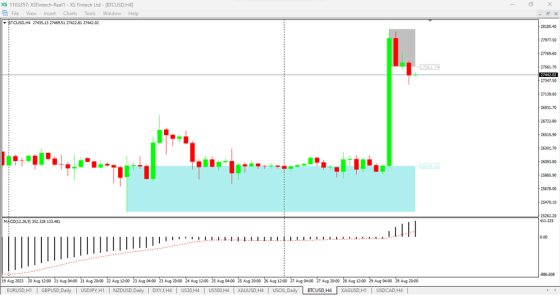 The Bitcoin (BTC) price chart on the MT4 platform by XS.com
Currently, the price of Bitcoin is testing the level of the trendline it breached yesterday during the sharp price surge at $27,462. This level, which is now holding on to the four-hour chart, serves as confirmation of the continuation of the upward trend. The next targets in this case would be $29,300 and $30,000, respectively. However, it's more likely that prices will remain within a range today, fluctuating between $28,133 and $25,878, as the markets await stronger catalysts.
Looking from another perspective, stability below the range of $28,100 to $30,000 could support the primary downward price trend. By technical indicator signals, potential downward targets in the medium term could be at $27,000, $26,470, and $25,897, respectively. In the short term, Bitcoin's price might continue its ascent and target $28,335.58 in an attempt to retest the aforementioned resistance zone.