As event-goers prepare for the start of the music festival season in the UK, new data from e-commerce accelerator Pattern reveals Glastonbury won't cost attendees much more than usual this year, despite record inflation during the first half of 2023.
Glastonbury is the traditional curtain raiser for the UK music festival season, and it is expected to see more than 200,000 people in attendance. This year's attendees can rest assured that the cost of attending won't break the bank, depending on what they purchase.
The average cost for the most popular Glastonbury products only rose by 4.03% from Q2 2022 to Q2 2023, which is 2% under the current inflation rate (6.2%). The data insights come from Pattern's analysis of the pricing data for the most popular items purchased on Amazon UK, from 2022 to 2023 to see how inflation has impacted consumer costs for Glastonbury.
In fact, the insights revealed that many popular items even experienced inflation reversal. Items including sleeping bags (-7.23%), inflatable mattresses (-7.06%), hand sanitiser (-4.45%), camping stoves (4.45%), camping chairs (-3.98%) and torches (-3.4%) have decreased in price.
On the other side of the coin, there are still some products that have suffered the brunt of inflation that attendees should watch out for as they plan any last-minute purchases.
Most self-care essentials — such as sun cream (35.73%), deodorant (44.25%), toilet roll (11.66%) and toothpaste (11.04%) — remain on the rise, so consumers can expect higher prices for these items ahead of the event.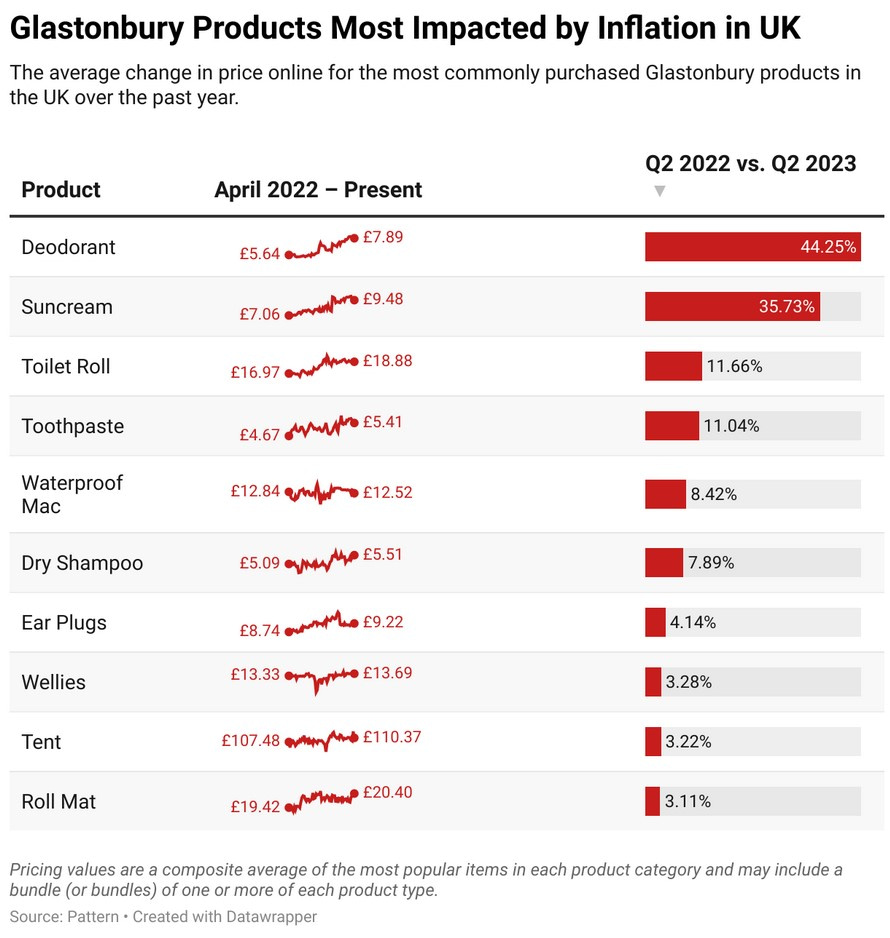 Neal Fairfield, Director of Consultancy, Europe at Pattern said,  "While record rates of inflation have been impacting consumers shopping baskets for some time now, depending on what they purchase, most music festival goers can head into Glastonbury and any of other festivals taking place this summer without overspending on items.
"Of course, there are still some products that have suffered the force of inflation, from sun cream to waterproof macs. However, by being aware of where inflation is worse across festival products, they can hopefully be unscathed by high prices."