Unlike other galleries in town, the Opera Group's director makes no secret of his London operation's commercialism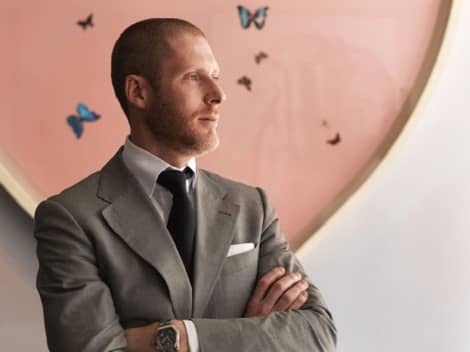 Jean-David Malat believes he's found the new Banksy. He's dealt Banksys, owns a Picasso and, in 2006, flew to Iceland to find a 60-year-old fisherman after being shown a photo of his art.
That fisherman is now a national treasure, his works fetching around £20,000 apiece.
Malat, 36, is the director of the London branch of the Opera Group; a fiercely successful gallery franchise that turns over €20m a year and has the clout to make an artist.
I meet him at the London gallery on New Bond Street. We sit downstairs where a Picasso hangs to my left and directly behind me a Warhol. Out of the corner of my eye, a painting by an artist I've never heard of hangs between them.
This is one of the art dealer's tricks. He "adds value" to lesser-known artists by exhibiting them alongside household names. It seems to be working. At the London gallery he receives about 100 CVs a week. Of the other 11 he won't say how many but indicates that it's a lot more. He tries to look at them all and, perhaps more impressively, says he knows instantly when the art is good or not.
"With the London gallery I have to be very careful: the world is coming to New Bond Street"
By good he means commercial. "Many galleries pretend they're not commercial, but they're all commercial. Everyone is there to make business. We are more open than that," he says.
Originally from Paris, Malat has lived in London for 10 years, although his accent is shockingly thick: artists are "'ot, I push zem; we 'ave good relations", he tells me. Tall, blond with angular features, he looks more Scandinavian than Gallic and is intimidatingly stylish in a magnificently tailored grey suit and starched white shirt.
He loves London and believes determinedly that it leads the way in art: "This is the place where it is happening for art. People come here for art." Saatchi's Young British Artists (YBA) pioneered a trend that has stayed, he says.
And Malat has his own YBAs. He has a legacy of plucking artists from obscurity – or off the street – and making them international as he trials them elsewhere before deciding whether they're worthy of a place in the coveted London gallery.
"With the London gallery I have to be very careful: the world is coming to New Bond Street, I have to be very picky with my artists."
And some artists work better for different audiences. For his London artist Zoobs: "The market is very Middle East. We're doing a show in Dubai, for instance".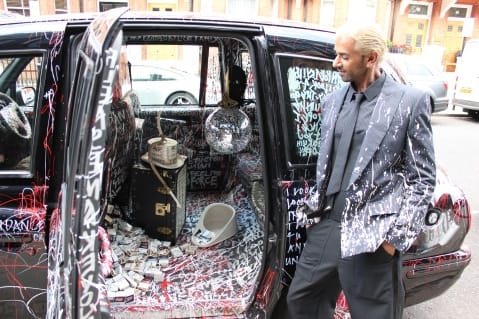 He believes his approach to dealing is unique. His track record isn't bad either. As well as renowned contemporary artists such as David Mach (who sits on the board of directors at the National Portrait Gallery), Malat manages new talent such as Rich Simmons and Vincent Poole. Simmons is a classic Malat signing. A self-taught graffiti artist, Simmons uses spray cans and stencils to create political punky works. He's the guy Malat predicts will be bigger than Banksy.
The financial crash changed the way Malat deals. "Now it's very different. Now, with most of my contemporary artists when I sell their works, I make the collector sign that he won't put the piece on the market for three years. Or, if he wants to, I must have first option to buy.
"I control the market of my artists like that ."
Malat opened the doors of the Opera Gallery to a ghost town on the 7 July 2005 – a day etched in Londoners' minds for all the wrong reasons. Since then, however, there's been no shortage of visitors.
The Opera Group is a chain of 12 branches, each one in a major world city. It is unashamedly commercial in its approach and deliberately inclusive. Where some of its rivals have come under fire for being intimidating and unwelcoming, Malat promises Opera to be the opposite – as for rival White Cube being snooty, he says: "White Cube is less like that now, because like everyone, they need to make business."
Does he spend much time in small galleries? Yes, but he does so incognito. Does he poach artists from them? "No." But what if they have an artist he really likes? "It could happen, yes… sometimes, it's true".
"You have to buy what you feel. Before the crash you could buy a piece and sell it one week later in auction and make a profit, but now it's more difficult"
What if they've already signed a contract there? "If they're talented, they haven't signed a contract."
Of the London market Malat is confident: "It will grow more and more strong. The London market is always number one. There are many good talents and a lot of money from clients.
"With all the financial difficulties people want to put money their money in art – with the big names especially."
But lesser known, contemporary artists are still risky and he cites the recent boom and bust of the Chinese contemporary market as an example of potential volatility. "When I was selling Chinese contemporary art in 2006, when Chinese art was hot, people were buying from me and one month later the piece was in auction in New York for huge amounts.
"It was very high and then it crashed completely. It will recover, but it will take time."
So where should investors put their money? "You have to buy what you feel – what you like. Before the crash you could buy a piece and sell it one week later in auction and make a profit, but now it's more difficult.
"You need to wait a year so the most important thing is to buy something that you will enjoy because you might be stuck with it for three years."
And how long does he typically manage an artist for? "For as long as it works."
He makes it work by "pushing" his artists; organising stunts such as live performances during exhibitions and timely depictions of those in the public eye such as the recent Kate Middleton portrait by Zoobs (pictured below). The piece is already being described as a cult classic by collectors. Malat, it seems, doesn't just follow the zeitgeist but makes it: he's the new Simon Cowell of the art world. 
Malat's artists exhibiting at Opera Gallery London
1.     Mr Brainwash starting price £23,000 up to £150,000
2.     Lisa Cabellut, typical pieces fetch between £35,000 and £75,000
3.     David Mach, £45,000-£50,000
4.     Nick Walker, £25,000-£35,000
5.     Oli G Johannsson around £20,000
6.     Vincent Poole £16,000
7.     Rich Simmons, typical pieces fetch £10,000