British Red Cross first aid training courses provide the practical skills and confidence needed to help save lives in a first aid emergency.
You never know when you might need to put your first aid skills into action. London-based recruitment agent, Elizabeth Warren, never expected that she'd need to save a colleague's life.
Read Elizabeth's story
Elizabeth was enjoying lunch with her work colleagues at a buffet restaurant, when one of her workmates started to choke.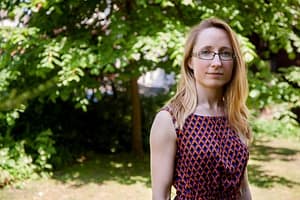 Elizabeth explained what happened, "she spat out water and then stood up and started gasping for breaths. She was waving her hands and was clearly indicating to us that she couldn't breathe. As I was sat further round the table, I ran round to where my colleague was choking.
I positioned my colleague so that she was leaning forward. I then hit her firmly on her back between her shoulder blades. Even though my colleague was choking, she remained very calm."
After four back blows, the obstructive object finally became dislodged and thankfully, Elizabeth's colleague began breathing normally and was able to speak.
Elizabeth's other workmates were speechless. They were shocked and commented on how hard Elizabeth had had to hit her colleague to dislodge the object.
"I remembered how hard we practiced giving back blows on my first aid course, it's really got to be quite strong," Elizabeth explained.
"I felt I remained calm during the incident. It wasn't until afterwards that I realised how lucky it was that I was there to help. I never thought that I'd need to save my colleague's life. After we'd all left the restaurant my colleague sent me a message saying 'you're my hero'."
Elizabeth added, "I would recommend for everybody to attend a first aid course – it gives you the confidence to act. I made friends on my first aid course that I'm still in contact with today."
Quality first aid training at our latest London venue
As leaders in first aid training, we understand the need for convenience and accessibility when booking first aid courses for your staff.  That's why we offer first aid at work courses at conveniently located training venues across the UK, including our latest flagship Moorgate venue in Central London. You don't have to travel far to find the high quality, first aid training you need.
Our Moorgate venue is conveniently located in Central London, directly opposite the Moorgate tube station (Exit 1 Moorfields) and just a 10 minute walk from the Liverpool Street Stations.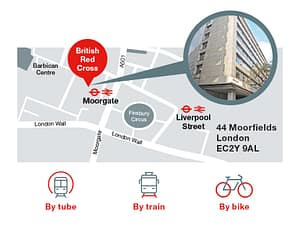 How will you benefit?
Enjoy an enhanced learning experience in a modern and comfortable training environment, based at the British Red Cross headquarters. Benefits include:
a wide range of first aid courses for work and members of the public
the flexibility to train at a time and date that suits you
courses that are practical, enjoyable and hands-on.
Other benefits of training with us include:
we are acknowledged by the Health and Safety Executive (HSE) as a standard setter for first aid at work training and practice
we have an excellent, 9.6 out of 10*overall Trustpilot rating
an unrivalled reputation for quality and excellence, built up over 35 years
free, post-course learning support through our Safe Hands online community.
To find out more about how your staff can gain the practical skills and confidence to perform first aid, at courses that are enjoyable and hands-on, visit Red Cross First Aid Training or speak with one of our advisors on 0845 154 0168**. Book a Red Cross first aid course

*Trustpilot rating March 2018. ** Calls cost 5p per minute, plus your phone company's access charge.