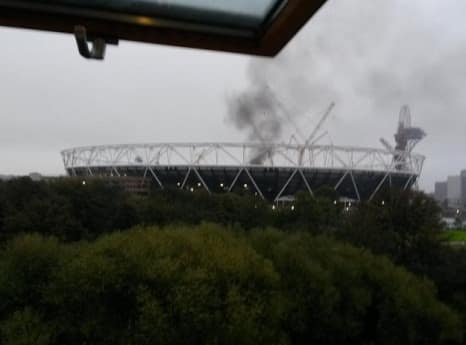 Source: Sarah Nadif
London Fire Brigade tackled a blaze at east London's £500m Olympic stadium this morning.
Smoke was seen billowing above the sporting venue after a van caught fire.
Londoners took to Twitter to post photos of the blaze.
Fire brigade speedy attend the scene and begin putting it out. pic.twitter.com/3UOzckCctn

— Sarah Nadif (@PR_Nadif) October 29, 2014
The Olympic stadium appears to be on fire. Oh dear. @bbcbreaking @londonfire #stratford#stadiumpic.twitter.com/2f9k9TEIt2

— Adam Rivers (@gamblingecon) October 29, 2014
Olympic Stadium appears to be on fire?! pic.twitter.com/VVrYluugyq

— RelicReturns (@RelicReturns) October 29, 2014
A London Fire Brigade spokesperson said: "We were called at 7.03 to reports of a van on fire in the stadium. Security called us and there were no injuries.
"There was a fire in a van."
Now read: