He's done it again.
Sir Richard Branson has made £70m by selling his stake in Virgin Money.
The bank floated on the London Stock Exchange yesterday with a valuation of £1.25bn.
Sir Richard had held onto a 15% stake, which he sold.
He set up Virgin Money in 1995, but the bank has grown rapidly since taking over the "good part" of Northern Rock in 2009.
US billionaire Wilbur Ross, the other major stakeholder in Virgin Money, also sold off his chunk of the bank for £70m.
So, £70m – not bad for 20 years work, right?
Actually, it's a drop in the ocean for billionaire Branson.
His total wealth stood at US $4.9bn as of the start of this month, according to Forbes.
So this additional £70m – converted and rounded to US $0.1bn in the chart below – looks practically paltry in comparison.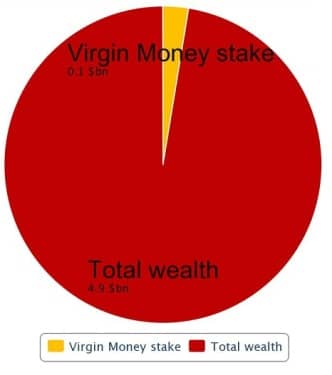 Now read…