In 2022, according to ONS figures almost half of the UK workforce are in a hybrid model, and with many employees seeking more flexibility for a better work-life balance, there are many members of the UK workforce who are working from home.
However, employers have been taking measures to monitor what is being done whilst their employees work from home. By utilising things like monitoring tools employers are able to see what their employees are getting up to, and to ensure assets are secure.
How many companies are monitoring their employees? 
In the UK, statistics point to around 1 in 3 companies. Using the latest figures from the Government of companies with employees in the UK, that could mean around 1.76 million businesses are monitoring UK staff.
What are companies using to monitor employees?
The research conducted by StandoutCV looked at the top 50 most commonly used monitoring tools to reveal how much information employers could be collecting on their employees. The research compares the monitoring tools to see what features each of these monitoring tools have, and how these invasive features can monitor employees day to day whilst working from home.
These monitoring tools offer a variety of monitoring features, from video monitoring to GPS tracking, which give employers information in real-time as to what, and where their employees are working.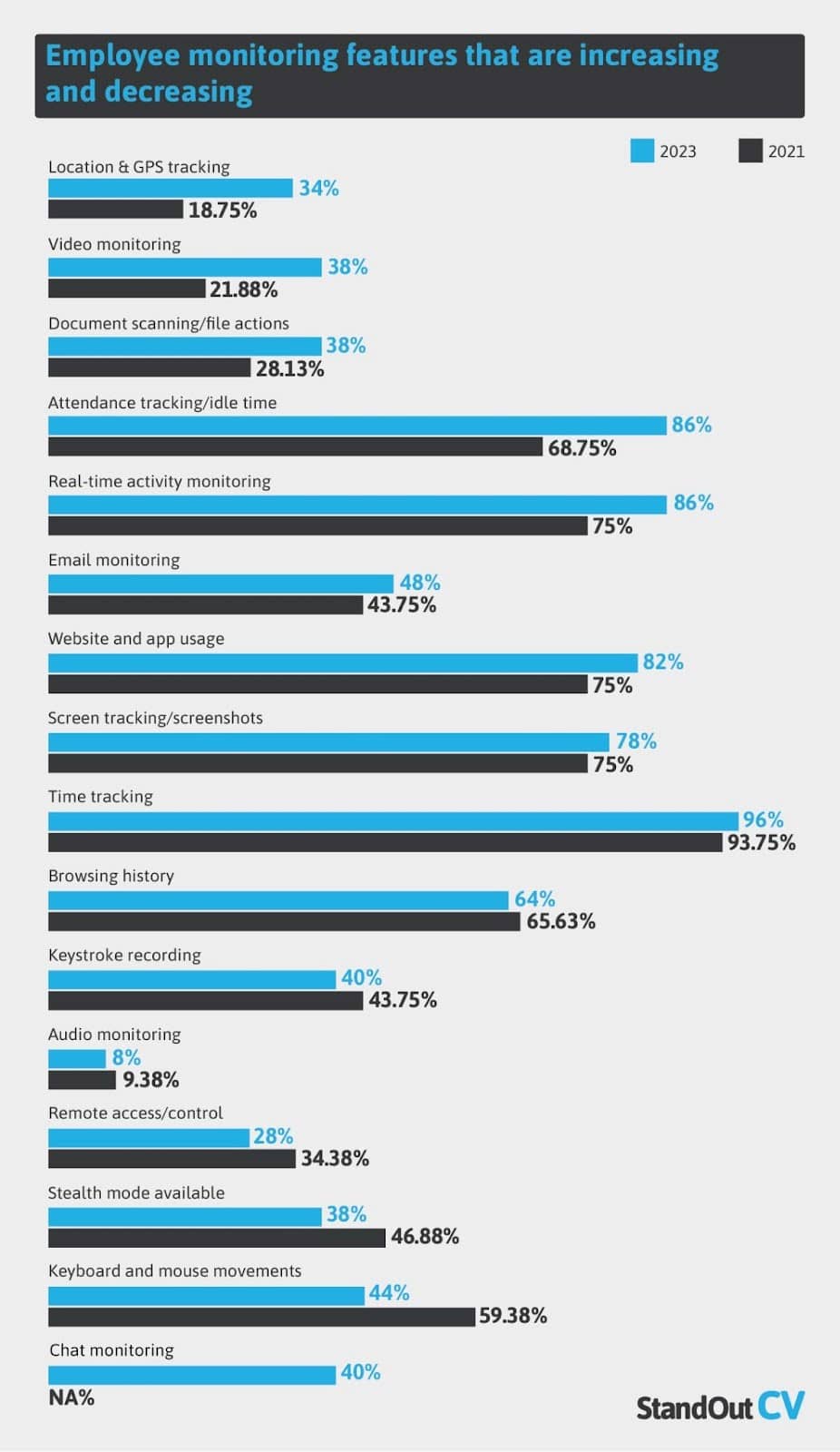 Many of these tools have stealth modes, meaning employees are not aware or told by employers that these monitoring tools have been installed onto their computers.
The most common employee monitoring tool used at 96% is time tracking tools. Many businesses use this type of tool to track how much time is being spent on tasks, which can also be done without an employee's permissions.
The second most popular feature for employee monitoring is real time activity monitoring at 86% is the second most predominant employee monitoring tool. This enables employers to see what files you have accessed and what you have been working on.
2021 vs 2023 employee monitoring 
In 2023 there are 24.24% more invasive features on employer monitoring tools than there were in 2021 when this study was first published.
In 2021, there were 21.88% of employee monitoring tools that had video feed access (via webcams), however there has been a 42.42% increase in this video monitoring in the last two years as it has increased to 38% in 2023.
With remote working options available, and three in five UK employees saying they are looking to work abroad, employers have also brought in more monitoring tools to track exact GPS locations of their employees, however 1 in 3 employers now have the tools to track the exact locations of their employees, which is a 44.85% increase in the last two years!
What tools are being used to gather data the most?
For the second year running, the data revealed that Teramind has the highest number of concerning and invasive features, providing over 5,000 employers in 12 countries with the opportunity to watch or listen in on their employee's conversations, both at home and at work.
In 2023 however, Veriato Vision joined Teramind in the first position, with broadly similar features, however, Vision doesn't claim to monitor audio, but does track GPS location.
Why is this concerning?
With the increase in frequency of employee monitoring tools intellectual property is likely more secure, but these tools raise privacy concerns.
With 38% of tools being able to record video and 8% of tools being able to monitor audio, employees' most private conversations could be recorded in their homes without their prior consent or knowledge.
Location tracking could also be a privacy issue, with 34% of these tools offering an exact location and in real time.