Did you wake up in the middle of the night last night to flashing light and loud crashing?
Thunder and lightning storms blasted the capital,  keeping thousands of us awake and causing some serious damage.
A total of 31 firefighters and officers tackled a blaze at a house in Streatham, south London, which was caused by lightning striking a television aerial.
There were more than 3,000 flashes in just two hours. We gathered the best pictures from around the capital: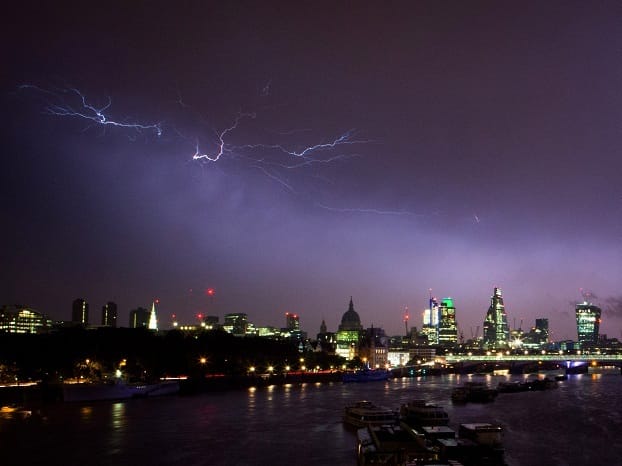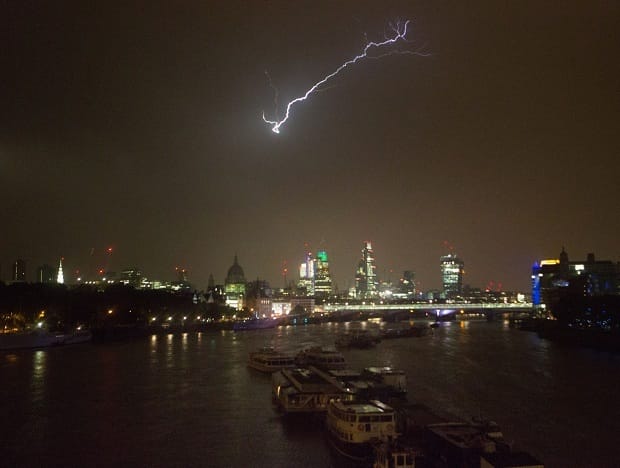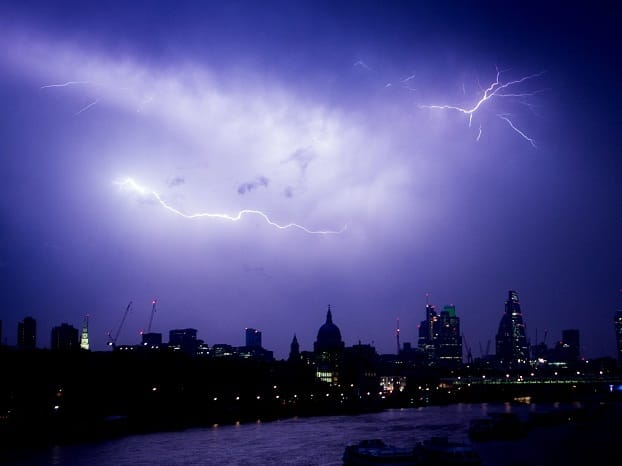 just woke up and photographed this #thunderandlightning#canarywharf@BBCBreaking@thetimes @K8_Hazel @Ogilvy pic.twitter.com/DOMG6Lr4tJ

— justin stokes (@justinstokes_) July 18, 2014
Here's another pic of the lightning storm overhead as it moves N.E toward Essex and East Anglia… pic.twitter.com/WSFDkDahBP

— MPS Helicopters (@MPSinthesky) July 18, 2014
And here folks is why we are currently on the ground!! #SummerStormpic.twitter.com/d1wA3VcOey

— MPS Helicopters (@MPSinthesky) July 18, 2014
Here's what the #thunderandlightninglooked like over Hayes: #lightning#stormpic.twitter.com/Jm4PC7Pjo2

— Alex Scott TV (@MercianMedia) July 18, 2014
Here's a snap from India-99 taken as the current storm approaches London #lightningpic.twitter.com/lx3sNMVkG9

— MPS Helicopters (@MPSinthesky) July 18, 2014
@MPSinthesky@TunbrdgeWells to close for comfort? 🙂 pic.twitter.com/Dt5ShKxYxx

— Russell and Lucy (@russlucy1) July 18, 2014
@MPSinthesky and another pic.twitter.com/BlVktPvdYP

— Georgie (@Georgina_Kidd) July 18, 2014
@MPSintheskyHere's mine over Balham… pic.twitter.com/eDC1Se3o6S

— Joey Lopes (@djJoeyLopes) July 18, 2014
@MPSinthesky my contribution pic.twitter.com/Q2EXQ0jMQU

— Georgie (@Georgina_Kidd) July 18, 2014
@MPSinthesky I've got one!! pic.twitter.com/oQRe2tGMA2

— James Stevenson (@TheJockadile) July 18, 2014
@MPSinthesky and this pic.twitter.com/f52Lf0kngU

— Becky (@spritesbites) July 18, 2014
@MPSintheskyhere's a nice #lighting pic for you all pic.twitter.com/xSe38P6MJF

— Lee Heppell (@LCJHeppell) July 18, 2014
@MPSintheskymanaged to snap this pic.twitter.com/pDQ7ZgRP1g

— ☆ HENSBY ☆ (@Neil_Hensby) July 18, 2014
Shot of the storm that hit London through the night. #londonstorm#lightning#londonlightning#londonthunder#londonpic.twitter.com/1ISpmSz4IW

— Russ Francis (@R_F_Photo) July 18, 2014
Thunderstorm over London #thunder#weather#london#lightning#londonstormpic.twitter.com/lyfttovoZr

— Mike Vaughan (@mikeyvaughan84) July 18, 2014
Had a sleepless night? Over 3000 lightning flashes have been recorded across the UK & IRE in the last 2hrs alone. MT pic.twitter.com/6ZMPxBkeS0

— BBC Weather (@bbcweather) July 18, 2014
Also check out this amazing Vine:
Tweet me your thoughts on this story @robynvinter