Things are about to get ugly…
Our columnist Alessio Rastani is the self-proclaimed trader who shocked the world by declaring live on BBC News that he goes to bed "every night dreaming of the next recession" and that "Goldman Sachs, not the governments, rule the world". He's a controversial figure, not least because he's a self-taught non-institutional trader with no FSA license. But he certainly isn't shy about sharing his views. Do you agree with his words? (His words are his own and not endorsed by LondonlovesBusiness.com.)
What I'm about to say might anger you… 
From cars to currencies, we're surrounded by "bubbles" that need to pop.
Even if "bubble" is not the right word, a correction in these "crazy" markets should at least bring their prices down to earth.
Tesla Motors (TSLA)
Tesla's electric car has sent its share price sky-rocketing nearly 400% since April. Short sellers were getting killed… until October.
Everything went downhill after a YouTube video showed a Tesla car burning in a fire for no apparent reason. Take a look at this chart: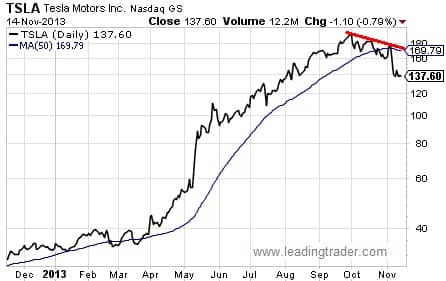 Tesla will face stiff competition with BMW, which has its own slightly sexier electric car. The company will do well. But its share price?
Last month I warned about Tesla breaking some key market levels and possibly heading to $133. We're almost there. The next likely level will be $120.
Traders could wait for a bounce back to $170 (or the red downward trendline I've drawn on the chart) as a shorting opportunity.
Bitcoin
I asked my followers on Twitter recently what they would buy with $5,000. The most common reply was"Bitcoin" – the digital currency.
This chart below demonstrates their reasons to buy Bitcoins.
The last time I saw anything like that was the dotcom stocks in 1999.
It is astonishing that people forget that when price rises, so does risk. It is failure to understand this point that makes people buy high and sell low, instead of the opposite.
Notice that our momentum indicator below the price shows that Bitcoin is overbought.  When this happens, a decline in the price usually follows.
Just like all bubbles, this will end ugly…
The London Real Estate Market
Five years after a terrible housing crash, I cannot believe that we are actually talking about London properties being in a "bubble".
Back in 2009, I was telling everyone to ignore the negative news and that it was a great time to buy in London.
Sadly, people were too scared to buy.  A big mistake as this chart will show:
You'll notice that London property prices have soared and we are now above the 2007 pre-recession prices.
In July I told my mortgage broker, Mark Scott of Lifetime Wealth Management, that I am considering buying a few more properties in London. He is my "go to" man if I ever want a good deal.
His answer? "Alessio, it's absolutely crazy right now. It's a seller's market. I'd wait for a correction in prices before you buy."
Mark does not think London is a "bubble", but he does believe a small decline in prices would be worth the wait and a good buy opportunity. I bet he is right.
You may like:
Where to buy property in London in 2013 and 2014
Five reasons why the London property bubble will burst

Alessio Rastani is a stock market trader at LeadingTrader.com
Judged by Tim Campbell, Will King, Terry Morgan CBE, Amit Bhatia, Matthew Hancock MP, June Sarpong & more