Toyota Motor Company is the world's most indebted corporation. That's per a StockApps data analysis of the state of global corporate debt. The Site concludes that in the 2021/22 financial year, Toyota's debt stood at $186B. That figure is $1B more than the next.
StockApps' financial lead Edith Reads has weighed in on the data. She holds that Toyota's debt is good debt and even necessary. She suggested that the company's amassing of that level of credit is in line with its future-thinking nature. Here's what she said about the development:
"It's not unusual for Toyota to have such a colossal debt on its books; most global corporate giants do. Debt allows companies to reinvest in their businesses, growing them further. The key is keeping that debt sustainable, and Toyota has done well on that front. Being a player in a highly competitive sector, R&D constitutes a significant chunk of Toyota's budget. That and other expansion needs make such debt a necessity."
Edith holds that the revelation of Toyota's indebtedness is welcome news for investors. Measured against the company's earnings, it shows that it is operating a healthy business. That is a cue for Toyota's current and would-be investors. Besides indicating the viability of issuing firms, corporate bonds are one of the most lucrative investment tools.
So, how does Toyota's debt compare to that of other global corporations?
Stockapps' analysis shows that the top 10 most indebted companies globally accounted for 17% of net corporate debt. That's a combined $8.1T in credit. Additionally, the ten are from the automotive and communication sectors.
German automaker Volkswagen (VW) is the second-largest borrower among global corporations. By the time of writing, VW's debt stood at $ 185B.  The firm dropped a rung lower on the list compared to the 2020/21 financial year when its debt was $200B.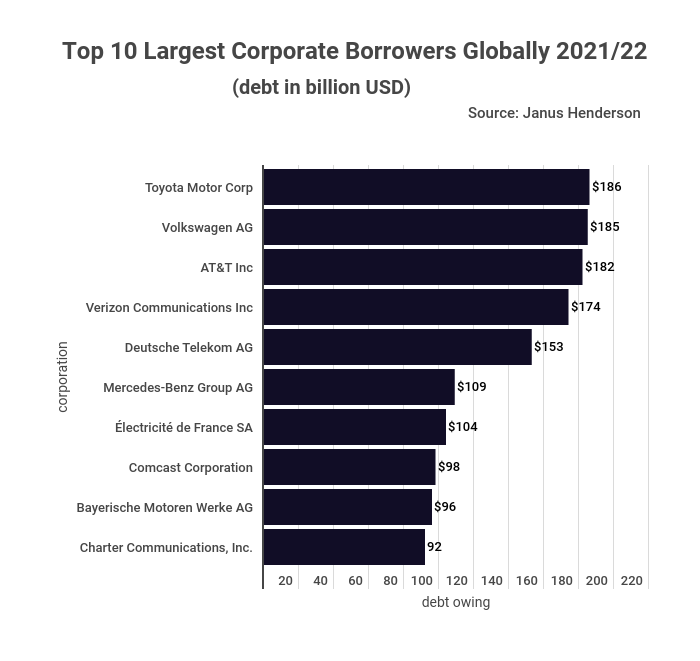 Moreover, American communication giants, AT&T and Verizon take the 3rd and 4th spots. The former owes its creditors $182B, an increase from $173B last year. Meanwhile, the latter's level of indebtedness stands at  $174B after jumping from $127B in 2020/21.
These make way for German firms Deutsche Bank($153B) and Mercedes ($109B), who take the 5th and 6th spots. Their compatriot BMW came in 9th, owing $96B. The rest of the top 10 comprises Electricity de France ($104B ), Comcast Corp ($98B ), and Charter Communications ($92B).
What's the outlook on global corporate debt?
Available data indicates that global companies are reducing their exposure to debt. That's largely due to their recoveries from the economic shocks of the Coronavirus pandemic. Corporate debt spiked at the pandemic's peak, but containment measures have returned normalcy across the globe.
As COVID-19 ravaged the globe,  companies took loans as a stopgap to cushion themselves from its aftershocks. However, the progressive reopening of economies in 2021/22 unleashed pent-up demand. Consequently, companies rebounded strongly profitwise, resulting in healthy bottom lines.
Furthermore, there's been a petering out of the post-COVID-19 M&A boom. Biting inflation and geopolitical uncertainties have left firms with surpluses alleviating the pressure for corporate borrowing.
Corporate debt will continue declining into 2023
All signs point to a continued decline in corporate loan absorption. The slow growth of the global economy has seen some nations slip into recessions, increasing the cautiousness of many firms. Again,  consumer spending is declining owing to sharp increases in product prices, which affects companies' margins.
Meanwhile, interest rates have spiked, increasing the expensiveness of corporate debt. That has coincided with many Central banks in the leading economies tightening their monetary policies. This action will most likely depress economic activity, and a combination of these factors will push down corporate debt to roughly $7.9B by mid-2023.