The chance of new Tory leader Liz Truss failing to last 2022 and therefore become the UK's shortest-serving Prime Minister ever is just 3%, according to the latest prices from the Smarkets exchange.
However, early betting-market indications are that there is a 1-in-4 chance she is replaced at some point in 2023.
Following Monday's result, Smarkets have early prices on who the next Conservative leader will be, with Truss' predecessor Boris Johnson near the top of the betting but behind market leaders Kwasi Kwarteng and Kemi Badenoch. Defeated leadership contender Rishi Sunak is also one of the early favourites.
Smarkets' latest prices have Kwarteng as hot favourite to be appointed Chancellor, with Suella Braverman and James Cleverly leading the markets for Home Secretary and Foreign Secretary respectively.
Here are the latest prices related to the next general election, which Truss said would take place in 2024.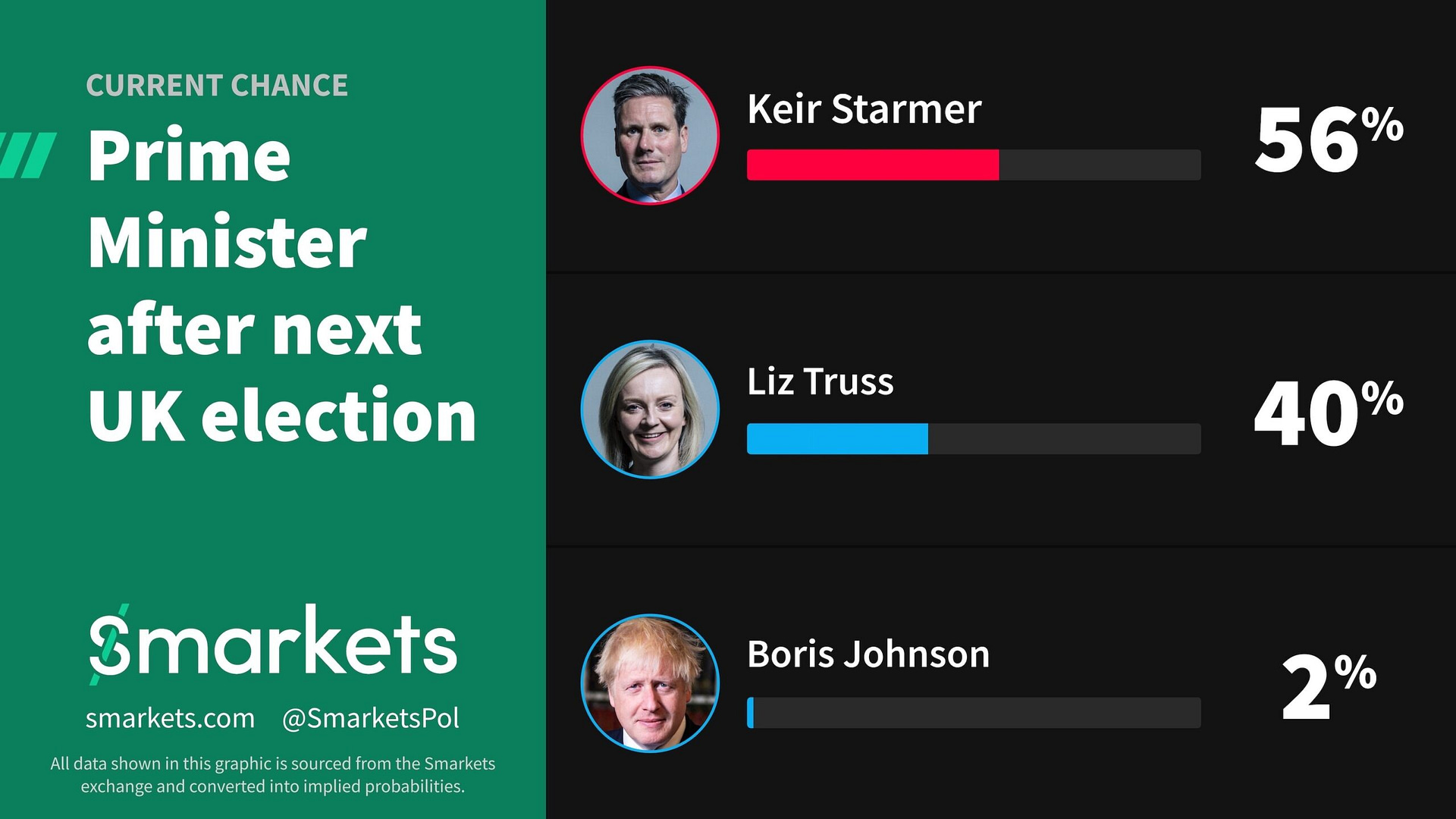 Matthew Shaddick, Smarkets Head of Politics said, "Liz Truss was a huge favourite to win the leadership election run-off, but her chance of winning a general election looks much less likely.
"Betting markets are pricing in a significant loss of Tory seats and a Labour government is currently the most likely outcome. Keir Starmer's probability of being the post-election PM now stands at 56% against Truss' 40%.
"Betting is also already underway on who will succeed Truss as Tory leader with the early odds making her predecessor Boris Johnson one of the potential frontrunners.
"Likely next Chancellor Kwasi Kwarteng is the market leader, closely followed by Kemi Badenoch, who was the breakout star of this leadership race.
"No surprises are expected in Truss' first cabinet with Kwarteng now a 93% favourite to take over as Chancellor.
"James Cleverly and Suella Braverman have been widely tipped as Foreign Secretary and Home Secretary respectively and they remain strong market leaders ahead of Tuesday's expected announcements."