The digital economy is evolving rapidly, a trend that has accelerated rapidly following the COVID-19 outbreak. Many more individuals and UK-based companies are conducting business operations online. Due to the emergence of innovative HCM tools and digital technology apps, it is also becoming more convenient to complete routine tasks online, instead of always working from a physical location.
Whether you're at the office or working remotely, there are several HCM tools currently available that can help UK-headquartered companies streamline their operations. By selecting the appropriate HCM tools and software package for your business, you can shift your focus to developing high-quality products and services, which can then increase your company's revenue. Let's take a look at some popular HCM tools that can help UK companies boost their productivity.
Hibob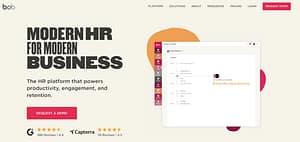 HiBob aims to fundamentally improve how organisations do business in the modern world of work with its dynamic HR/HCM platform called "Bob". HiBob's developers intend to pave the way for the future workplace. The HCM platform provides innovative, agile technology that manages all the complexities of HR processes. The users of this software package can expect to interact with a user-friendly interface that touches every worker across the business.
Since 2015, empowered "Bobbers" from across the globe have brought their true selves to work and striven to build the best HR systems to enhance the work experience for HR professionals, managers, and employees. Described as being agile and adaptable, HiBob innovates via continuous learning loops to produce cultural shifts for UK companies with dynamic, distributed workforces.
Gusto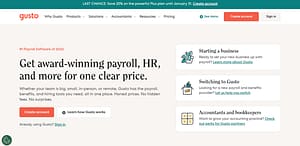 Introduced in 2012 as ZenPayroll, Gusto serves over 200,000 businesses across the US. Each year, the HCM software service provider processes tens of billions of dollars of payroll and provides worker benefits—such as health insurance and 401(k) accounts—while helping firms create some of the best workplaces.
A single intuitive, integrated platform, Gusto is designed to automate and streamline a UK company's payrolls, benefits, and HR, while offering dedicated support. You and your employees can have the peace of mind you need to focus on the most important tasks, which can really help your business grow faster.
Sense HR
Sense HR is an all-in-one HR software for small businesses in UK that simplifies human resources operations for businesses of all sizes. The software offers a range of features, including employee onboarding, time and attendance tracking, leave management, payroll processing, and performance management. Sense HR's user-friendly interface enables employers to streamline HR processes and provide a seamless experience for employees. Its robust reporting capabilities provide detailed insights into employee performance and engagement, enabling employers to make informed decisions. Additionally, the software ensures compliance with employment laws and regulations, minimizing the risk of legal disputes. With an affordable pricing plan starting from £1 per person per month, Sense HR is an ideal solution for small and medium-sized UK companies looking to optimize their HR operations while minimizing administrative burdens.
PeopleHR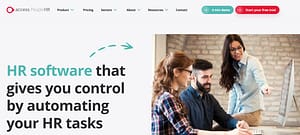 Access PeopleHR is part of the Access Group family and focuses on supporting the world of human resources—from supplying HRIS for companies of all sizes to offering learning content, payroll systems, and many other features. This means that as your business continues to grow, you can scale PeoleHR as per your requirement. It will support you at every critical step of your journey.
So, whether you're a small 10-person team without an HR department or a growing startup looking to implement an efficient HRIS, the PeopleHR platform can fulfill your key requirements.
SageHR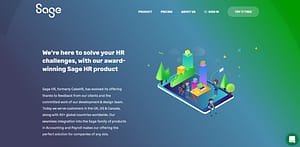 Sage HR enhances how companies engage, get, and retain the very best out of their people. The software suite allows users to effortlessly manage critical HR processes in a single place, from anywhere, with easy access to schedules, payslips, and other features.
The Sage HR suite allows small and large UK companies to leverage the latest HCM tools to enhance worker productivity and make their business operations more efficient. Sage HR, previously known as CakeHR, has continued to evolve its product by taking feedback from its clients. They've got a talented team of developers and designers who are focused on serving customers based in the UK, US, and Canada, along with over 40 other jurisdictions. Their seamless integration into the Sage family of products in accounting and payroll makes their offering the ideal solution for companies.
KiwiHR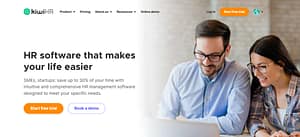 KiwiHR is the appropriate HR/HCM solution for personnel management in small and medium-sized firms. It focuses on enhancing your human resources. The software supports modern worker management, efficient absence management, transparent time-tracking, and holiday planning, which helps with saving working time and resources.
KiwiHR offers users all relevant employee information in a highly secure centralized system. It lets users create a digital employee file and set it up to be completed by staff members with all their personal details.
If you're in the market for a transparent solution for daily time tracking, then you should note that KiwiHR is able to track your employees'​ working hours at the push of a button and can automatically calculate overtime hours worked.
Breathe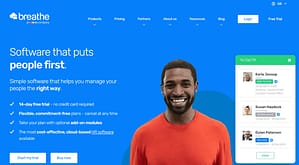 Established in 2012, Breathe is designed to equip companies with up to 250 team members with intuitive HR/HCM software tools that help significantly reduce HR admin work. Breathe is used by over 11,000 UK companies to effectively manage more than 400,000 employees.
Breathe says they're focused on creating HR software that can be used effectively by professionals with no experience in HR/HCM from day one. They also offer ongoing training and support services as part of their monthly subscription model to help their clients make the most of their software applications.
Final thoughts
It's worth taking a look at each of these HCM/HR tools because they're helping businesses of all sizes get their work done more efficiently. Since your company and its staff may have their own special preferences, it would be a good idea to have the team check out these tools and give feedback on what would best enable them to simplify their workspace.