Confidence is picking up – will you capitalise on it?
This article is brought to you in partnership with HSBC
It's a funny old time for businesses, this recovery. You know that the blossoming economy offers up great potential. And you're hearing from your network about the exciting investments your peers are making in their pursuit of growth. But you're not quite sure that you're ready yet.
Well, many experts believe now is a good time to invest.
Not wholly convinced yet? These charts will explain why, and give you a useful overview of how other businesses are investing for growth.
The economy is picking up – as is forecasters' confidence in it…
We all know now that UK GDP is finally on the up. What's interesting, though, is that forecasters have become increasingly optimistic throughout this year, revising economic forecasts for 2014 and 2015 upwards.
The government keeps track of all the main independent forecasts throughout the year on a monthly basis, and takes a monthly average of them.
The following chart shows how the average independent forecast for GDP growth in 2014 has been consistently revised upwards throughout this year. (The months on the horizontal axis indicate the time the forecasts were made, not the months they refer to.)
Average of independent forecasts for 2014: GDP growth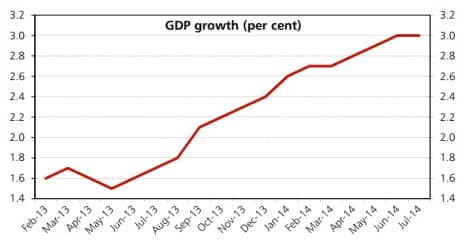 Source: HM Treasury
This chart shows the average of forecasts for 2015, and how they've also been revised upwards as the year has progressed: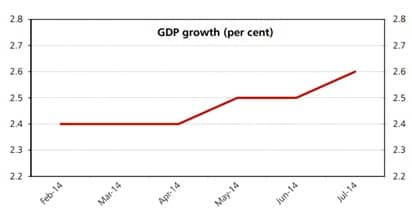 Source: HM Treasury
…And that's led to increased business confidence
As economic confidence has grown, so has business confidence. Two in three business leaders (66%) are confident in the current economic climate, according to research from last month's Ambitious Businesses report from HSBC. That compares with just 42% of business leaders who felt confident last year.
And although the most recent ICAEW/Grant Thornton UK Business Confidence Monitor found that business confidence has dipped slightly in Q3 2014, it still "remains at a high level by historic standards".
Businesses have invested in growth this year
This chart shows that almost all businesses have invested in growth-generating activities in the first half of this year – some 92% of them, in fact.
Data source: HSBC Ambitious Businesses report
In fact, businesses are investing more than they have done in five years.
The chart below shows quarterly business investment chained volume measures, up to the end of the first quarter of this year. You can clearly see how investment is on an upward tangent, and now exceeds 2009 levels.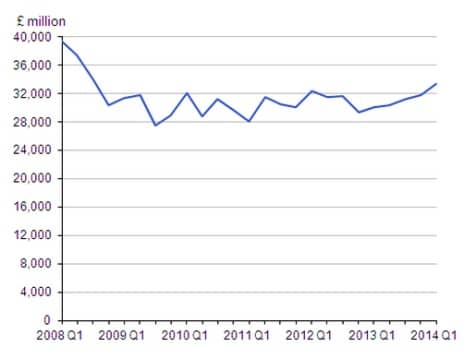 Source: Quarterly Survey of Capital Expenditure – Office for National Statistics
Because so many businesses have been investing in 2014, and at comparatively high levels, competition is increasing.
So if you haven't yet made investments in your growth, you risk falling behind rivals. "While it is vital to properly research and plan your investment, it's also risky to not invest if it allows your competitors to steal a march by being bolder in capitalising on the positive investment climate," explains Carol Bagnald, Regional Commercial Director for London, HSBC.
But that doesn't mean rushing any strategic decisions.  "Growth plans do need to be timed carefully, after research and evaluation, whether that be entering new markets, expanding a team, investing in machinery or up-skilling your people," Bagnald adds.
So what has everyone else been investing in?
These were the most common targets for growth investment in the first half of 2014: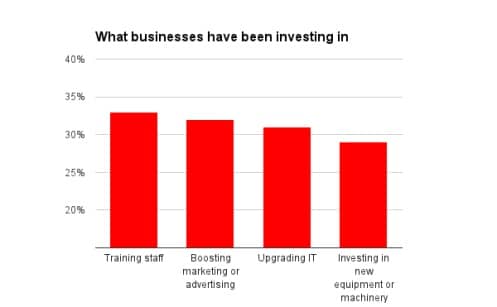 Data source: HSBC Ambitious Businesses report
These investments have been working, too.  A quarter of businesses surveyed by HSBC for the report cited above say those investments are already paying off, while a further 45% expect a return within the next three to six months.
The year ahead: most business are planning for growth
A whopping three in four businesses are planning for growth in the next year, as this chart shows:
Data source: HSBC Ambitious Businesses report
That means that the competition is significantly heating up. In fact, around one half of SME leaders have felt increased competition as the economy has improved, according to HSBC's research.
Of course, it's always useful to know what areas other businesses are planning on investing in, so you don't fall behind.
This chart explains that: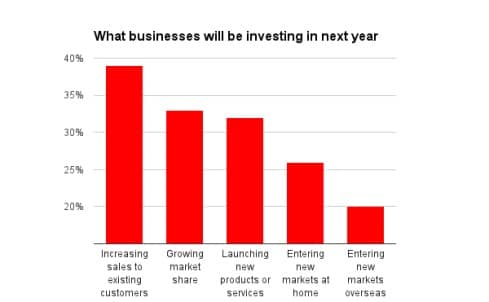 Data source: HSBC Ambitious Businesses report
So how can you decide what to invest in?
Bagnald urges companies to avoid "simply going with the trend" and instead to "take the time to make the right decisions".  
Research is key. "[Businesses] need to understand the market and do the right research. They should ask the right questions, ensure due diligence is balanced, and look at the impact on your business should it take longer for the investment to impact. It's really critical that businesses are prepared to wait for a return on an investment if it's more medium or long-term."
Companies should get their bank and professional advisers' input into their plans as early as possible to help them realise what options might be available to them. Bagnald also suggests talking to business organisations such as your local Chambers of Commerce, the CBI or the IOD.
The great news is that, as the economy has picked up, lenders have freed up funds for growing businesses. HSBC, for example, has made £6bn available for small and medium-sized enterprises – £1.4bn of which is exclusive for London businesses.
So if you're looking to invest, and your business is ready for it, there really is no time like the present. After all, you don't want to be stagnating while those three in four other businesses plan for their growth in the year ahead.
Carol Bagnald, Regional Director, London – HSBC
Appointed to the role in 2009, she has overall responsibility for the commercial business across London. Carol chairs Celsius, the exclusive top 100 Corporate Club, Vice Chair for West London Business and is also on the London Council for the CBI. In addition she is heavily involved in various industry groups joining the board of the British Fashion Council. Her charitable work includes Chairing the Business Champions Board for Dame Kelly Holmes and her Legacy Trust. 
Carol is a fellow of the Institute of Directors and in September 2012 received an honorary fellowship from Brunel University. Her interest in business extends beyond her role as Regional Director for HSBC, often invited to speak and comment on the business world both in the public and private sector. Recognised as very active in the London Business community she sits on various task forces, including the advisory group for the London Enterprise Panel at City Hall.
Carol champions diversity externally and internally within HSBC and is a member of the International Women's Forum for the UK. She recently agreed to join the advisory board for the Radius Business Network and to become an ambassador for Diversity Role Models.
Carol celebrates 37 years with HSBC in 2014. She has a teenage son, currently at University.
This article is brought to you in partnership with HSBC