According to the Office for National Statistics (ONS) British shoppers bought more than expected in July. The ONS said that high number of consumer spending could well help prevent the UK entering a recession during the third quarter. Retail sales rose by 0.2% above the minus 0.2 score previously predicted by economists, but still below the 0.9% of sales growth in July.
Retail sales in July were driven by online shopping surging by 6.9%, whilst in the three months to July the quantity in retail sales rose by 0.5%, but food and fuel have seen a fall in sales.
Rhian Murphy, head of retail sales at the ONS said, "Retail sales saw only modest growth in the latest three months."
"Although still declining across the quarter, there was an increase in sales for department stores in July for the first time this year. Strong online sales growth on the month was driven by promotions."
Ranko Berich, Head of Market Analysis at Monex Europe told LondonLovesBusiness, "It would seem UK consumers still don't give a fig about Brexit, and remain more than willing to spend their real wage increases. The report bodes well for a likely growth bump in Q3, as there are few signs that consumers are growing anywhere near as wary of no-deal as businesses.
"The usual gripes can be made about the figures; home goods were sluggish, July was warm, and promotions were applied. But on the whole the report further confirms the idea that strong wage growth is likely to drive consumer spending, supporting the economy as a whole."The sunny picture of the consumer sector painted by this week's labour market figures and today's retail sales report stands in stark contrast to data about businesses. Business investment has contracted for four of the past five quarters, and forward looking surveys make it clear businesses are very worried about no-deal risk.
"In this context, the strong overall macro outlook offered by rising consumer spending should be viewed as conditional on no-deal being avoided as opposed to a reason for believing that the effects of no-deal on the economy will not be as significant as feared by many. Sterling is trading only slightly higher on the news; the pound is a one issue currency and as good as this week's data is, markets know that no-deal risk remains a sword of Damocles hanging above the UK economy has a whole."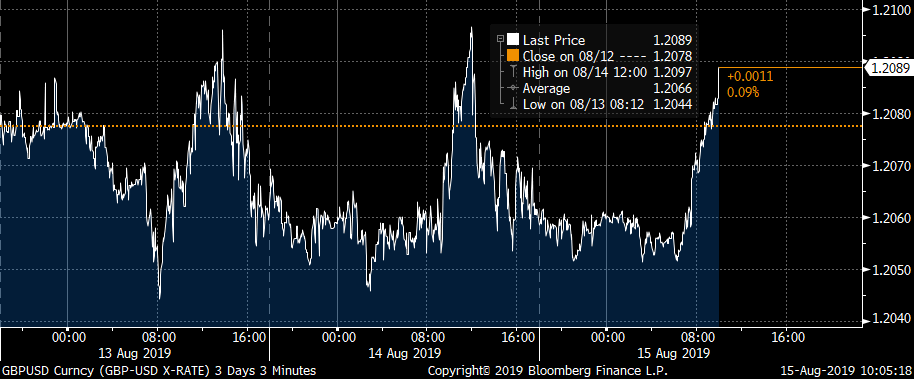 Philipp Gutzwiller, head of retail at Lloyds Bank Commercial Banking, said: "The retail sector continues to defy expectations and show further growth on the back of a generally positive first half of the year."
"The falling pound has in no doubt benefited retailers in the short term, with more Brits staying at home this summer and potentially spending their increase in real-term wages on fashion and home improvement."