The pandemic may have first begun to disrupt business operations more than two years ago now, but its impact is still certainly being felt today. As businesses continue to search for ways to bolster the quality of their communications as more employees begin to work remotely, we look to Powered Template's seamless ability to turn complex information into visually appealing infographics for businesses to share with ease.
Not only does Powered Template offer over 1,260 infographic-focused templates for a range of presentation platforms like Microsoft's PowerPoint, Google's Slides, or Apple's Keynote, but the provider also offers more than 460 templates that are completely free for individuals and organisations to use.
As businesses continue to adopt more agile and remote approaches to getting tasks done in the post-pandemic age, let's take a deeper look into how Powered Template can excel at converting complex information into colour-coordinated and easy to follow infographics to keep audiences engaged and informed when clear communication is of the essence:
Abundance of choice
As a remote business, it's likely essential that you'll have to discover the most suitable way of communicating complex information to your employees in the most efficient way. Whilst finding the right type of templates to suit your goals can feel like searching for a needle in a haystack, Powered Template's dynamic filters list automatically actions your clicks to display instant results to help you to refine, or broaden, your search in real-time.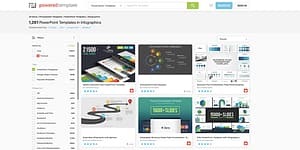 As we can see from the image above, users are offered a massive selection of categories in which selections can be built on wherever applicable. For instance, if you'd want to look for a 3D business presentation template for PowerPoint, Powered Template lets you select all three options simultaneously to sift through its selection of results.
It's also possible to select templates based on the volume of slides on offer, aspect ratio, and the colours used in the template itself – as well as the tone of colours.
Choosing the right infographic template
More choice can be bewildering at times. The notion of sifting through more than 1,260 templates whilst looking for the right infographic slides can be time consuming.
Fortunately, alongside the comprehensive search filters offered by Powered Template, authors are typically more than willing to share a great level of information about their creations to save you the trouble of sifting through slides in the hope that it suits your goals.
In the example above, we can see the raw information regarding the number of slides, aspect ratio, pixels, and file types high up on the page. Importantly, a star review system is present throughout the selection process, which can help users to quickly access the templates that their peers love, whilst avoiding ones that have consistently failed to live up to expectations.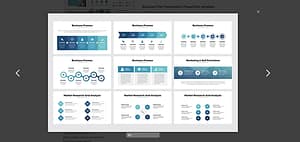 The use of a popup picture viewer also helps users to quickly see how their information can be converted into insightful charts. This can enable you to gain an understanding of exactly how your infographics will look to your audience.
As many authors opt to create a wide range of different infographic templates, choosing a template with a wider variety of slides and infographic combinations can help to create a consistent theme throughout future presentations – aiding employees to recognise and understand what they're seeing faster.
Downloading your template
Depending on the type of infographic template you select, the template could be free to download for premium subscribers to Powered Template.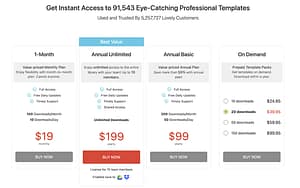 Powered Template's options for users wishing to download premium templates is extremely diverse. Whilst the best value comes in the form of an Annual Unlimited subscription – which generates licences for up to 10 team members and the option for saving downloads directly to Google Drive or Dropbox, there are also many more bitesize options for businesses that only want to use the platform's services on an infrequent basis.
One appealing option is to opt for an On Demand subscription, which enables users to download a predetermined number of templates over the course of a year – an ideal option for businesses that aren't as focused on presentations.
Alternatively, it's possible to access the platform's templates that are available for a free download. Often, these free to use templates require an attribution link which credits Powered Template as a means of acknowledgment.
Finally, you'll be offered the choice of the format you would like to use for your download. Once this is complete, you'll be able to start accessing and creating infographics in any manner that you'd like!
At a time when businesses are having to adapt faster than ever before to changes in how employees work, Powered Template has emerged as a key resource for businesses looking to make the most of their remote operations.
The option of downloading multiple slide-based presentations means that decision makers can conduct some trial and error in terms of which infographic templates resonate better, and editing options mean that businesses can add their own branding to each slide however they see fit.
In the new age of remote collaboration, Powered Templates is on hand to help businesses to inspire and inform their network of employees in an effective manner.