Dominic Cummings has posted a bombshell screenshot which shows a WhatsApp message from the Prime Minister which appears to describe the Health Secretary as "totally f***ing hopeless."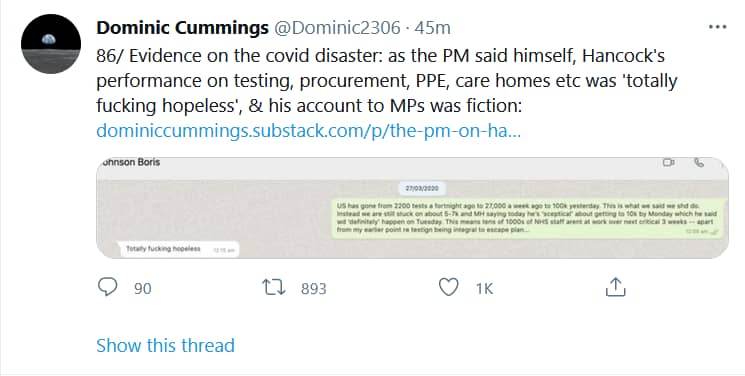 Cummings who is Boris Johnson former senior advisor has post a series of the Prime Minister's personal screenshots from his WhatsApp message on his blog.
On 3 March 2020 Cummings highlighted the US's ramping up of testing capacity and criticised Hancock for saying he was "sceptical" about meeting a target.
Johnson purportedly responded via WhatsApp that Hancock is "Totally f****** hopeless," Cummings has revealed on Wednesday morning.
Cummings also published more private messages which appear to be the Prime Minister's, which talk about the struggles to procure ventilators last year.
Cummings has alleged that Johnson replied with, "It's Hancock. He has been hopeless," it was said on 27 March 2020.
Another message that Cummings posted appears that the Prime Minister said the situation over Personal Protective Equipment (PPE) was "a disaster."
Johnson allegedly added, "I can't think of anything except taking Hancock off and putting Gove on," alluding to the fact that Michael Gove took over the PPE "disaster" which saw doctors and nurses being forced to wear bin bags for protection in hospitals.
The Prime Minister's official spokesman said Johnson has "full confidence" in the Health Secretary.
He said, "I am not planning to engage with every allegation put forward, the Prime Minister has worked very closely with the Health Secretary throughout and will continue to do so."
The Downing Street spokesman was asked if there are security concerns over Cummings's disclosure of the WhatsApp messages.
He added, "I don't plan to get into individual cases, there are rules published for former advisers to observe."m