The May UK composite Purchasing Managers' Index (PMI) was lower at 51.8 (Bloomberg consensus: 56.5) from 58.2 in April. The services PMI component was 51.8 (consensus: 57.0), versus 58.9 in April, while manufacturing came in at 54.6 (consensus: 55.0), against 55.8 in April.
Daniel Casali, Chief Investment Strategist at Tilney Smith & Williamson, the leading wealth management and professional services group spoke over the UK flash May PMI data.

Casali said, "The deterioration in the services PMI component shows that headwinds coming from accelerating inflation, rising interest rates and higher taxes (i.e. National Insurance) are weighing down on the UK economic outlook in 2023.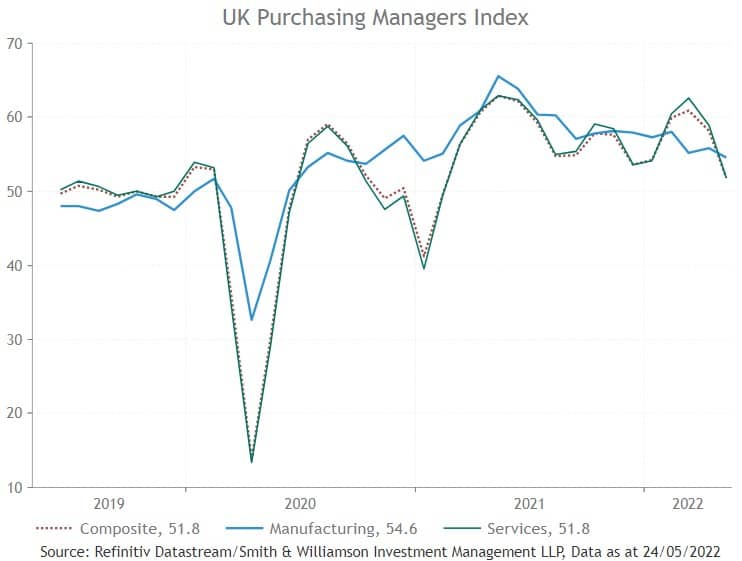 "The Bank of England has become more pessimistic and projects no growth at all next year on the back of households' weak real income expectations, which is forecast to fall by the second largest amount since records began in 1964.
"For investors, the UK economy is not the stock market. Many of the largest companies in the UK stock market have a global focus; around two thirds of FTSE 100 earnings are from abroad. This means that many companies have relatively low exposure to the domestic economy.
"Given the downside risk seen in consumer demand, it is probably prudent to steer away from consumer discretionary parts of the UK equity market and tilt towards opportunities in large cap UK stocks linked to global growth, rather than owning more domestic-focused stocks.
"For example, the MSCI UK energy index appears attractively priced and trades on a record low Price-to-Earnings ratio of 5.8 times earnings. This shows that even during the current market turmoil there are opportunities."