The study, which surveyed Brits who have at least £5,000+ in savings but haven't invested before, looked to uncover the main reasons why people aren't investing and aimed to clarify common misconceptions.
The findings show that two in five Londoners (37%) haven't even considered investing in the past year with a perceived lack of knowledge being one of the main barriers (73% of respondents).
The main barriers to investing
The top barrier to investing was preference to save in a cash account (76%), followed by a fear of losing money (76%). Seventy-three percent agree that a perceived lack of knowledge is a main reason for not investing, with a further 70% saying they think the process is too complicated.
Is your money better off in a savings account? 
With many opting not to invest because they'd prefer to put their money in a savings account, Wealthify's research explored the main drivers behind why people are choosing standard cash saving accounts over investment products such as Stocks and Shares ISAs.
The main reasons respondents preferred to place their money within a regular savings account is there is less risk of losing money (92%) and that they want to access their money quickly (91%). However, regular savings accounts may not always be the best option, experts say.
In the study, Wealthify presented respondents with a chart that compared the return of investment on a sum invested in the FTSE 100 over the past 10 years, compared to how the same investment would have grown in a cash savings account over the same time period.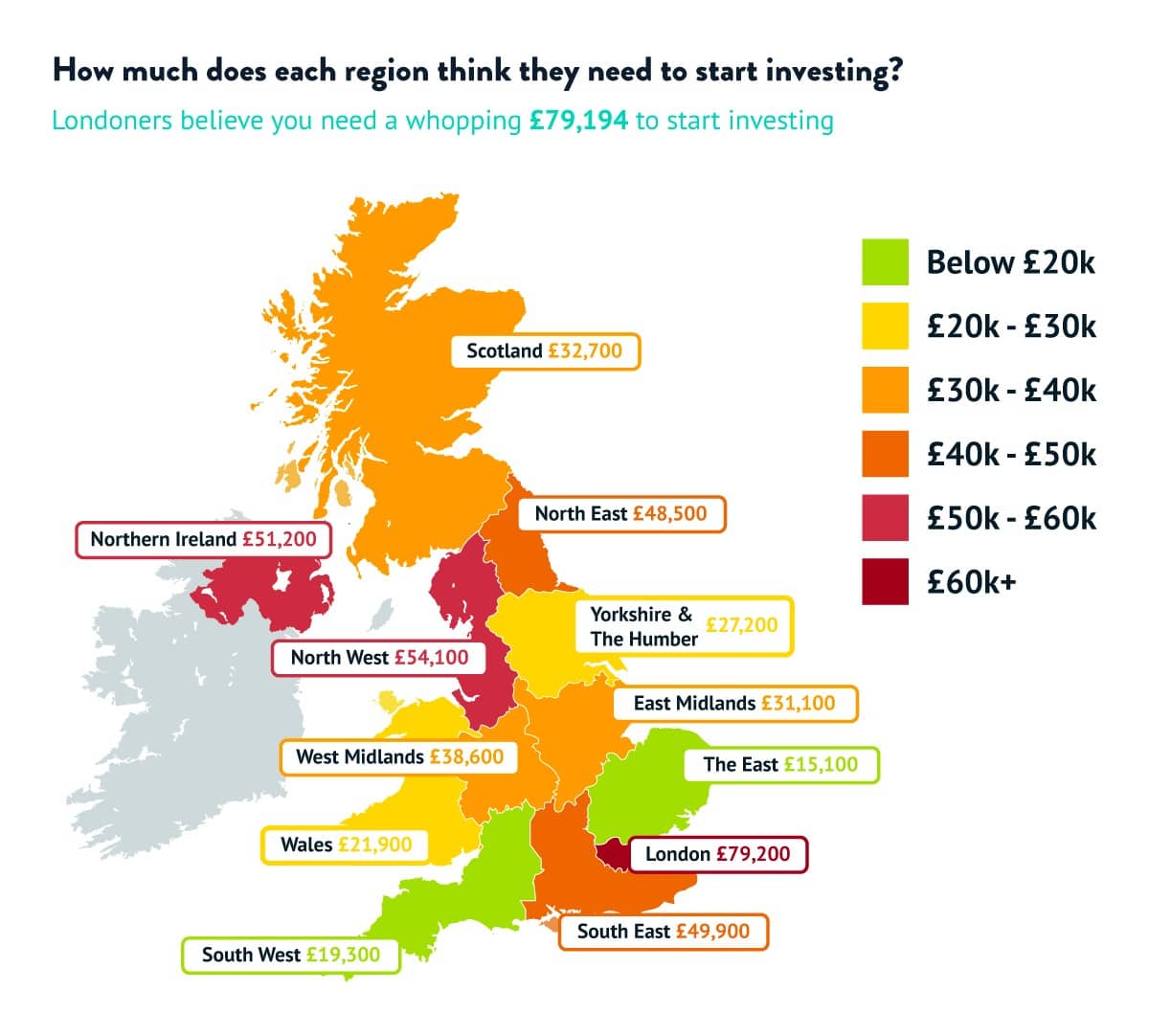 Over half (52%) of people agreed that after seeing how the investment would have grown over the past 10 years, they feel more confident about investing their money.
Andy Russell, CEO at Wealthify said, "There's no denying that savings rates are particularly attractive at present. However, when we look at the rate of inflation – which remains in the double digits – there's a huge gap between that and the interest rates on cash savings accounts.
"So, if the interest rate on your cash savings is below the level of inflation – which is extremely likely – over time, your money will lose value, as you'll be able to buy less with it. That leaves us with the question, what's the real risk – investing your money for the long term, or leaving it in a cash account to be eaten away over time?
"It's generally advised that once you have your emergency savings in place – which is the equivalent of at least three months' outgoings – any money you don't need in the immediate future is invested for the long term. And by 'long term', we mean around 5+ years."
Perceived lack of knowledge
In addition to saying they lack knowledge, 54% of Londoners stated they don't feel confident investing their money.
The study found that a lack of dedicated financial education at school may be one of the underlying factors causing this lack of confidence. More than a quarter of Londoners (26%) stated that they don't feel confident investing because of the lack of education on investments in school or growing up.
Russell added, "People think they need to be financial wizards to start investing, but the truth is that with online investment services like Wealthify you don't need to have any investment knowledge to get started – you can now leave the heavy lifting to the experts.
"But, if you are interested in building your own knowledge of investing, we provide plenty of resources to help you do that, with a jargon-free approach."
How much do you need to start investing?
A common misconception around investing is that people think they need to start with a huge amount. In fact, over four in ten people (43%) haven't invested because they don't think they have enough money, despite all respondents in Wealthify's study having at least £5,000 in savings. Londoners believe you need a whopping £79,200 to start investing, while the average amount the rest of the nation thought they needed to have to start investing was £40k+.
However, Russell said, "Many people believe that you need a substantial amount of money to start investing, but this simply isn't true. Wealthify was launched seven years ago with the aim of opening up the world of investing to anyone, not just the super wealthy.
"We believe that everyone deserves the chance to grow their money over the long term – that's why we've broken down as many barriers as we could, offering investments from as little as £1, low fees, jargon-free communications, educational articles and tools."