Here's what happened
Police raided two more properties in the early hours of Monday morning following the two attacks on Saturday night.
The Met's Counter Terrorism Command investigating the London Bridge terror attack entered the two properties at around 04:15, police have confirmed.
Residents were woken up by "gunfire and explosions" as counter terrorism officers stormed the properties and the police said, "a number of people have been detained and are at present being spoken to."
Police added "searches are ongoing at both addresses."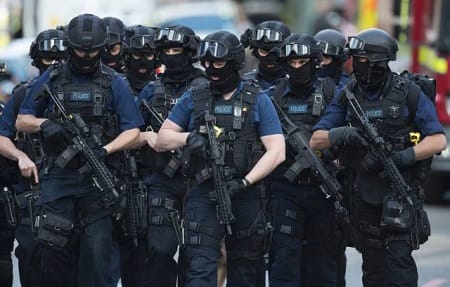 Source: @Photoshot
BatemanLDN said on Twitter: "New raids happening in Dagenham. Loud flash bangs and gunshots just off the A13."
He told the Standard: "It woke me up along with the whole street. Extremely loud bangs followed by gunshot bangs.
"All ok – very shaken residents nearby though. All quietened down now."
Sunday afternoon armed police swooped on a busy high street in East Ham, dramatic images showed armed officers entering a flat above a betting shop.
Outside #arqhomescomplete no go area

Public advised to stay away. #policeraid#PrayForLondon#eastham#newham#NoToTerrorismpic.twitter.com/Z7O7fk4Rlr

— ARQ HOMES (@ARQHOMESLONDON) June 4, 2017
Residents said they heard gun shots and people were detained, one witness said: "When I came out they were already taking some of the casualties away."
#LondonAttacks#eastham#raid#LondonBridgeAttack#LondonBridgeIncidentpic.twitter.com/4CM9Pto0Aw

— Postcode Agent (@PostcodeAgent) June 4, 2017
"There were three of them, the ambulance came and took them away."