Every manager wants to put together a world-beating corporate team. You can learn from the best to achieve this goal
If you wanted to name the most impressive entrepreneur in the world under 40 you'd struggle to beat Tony Hsieh. Probably only Mark Zuckerberg would shade him for the #1 spot.
At 24 he sold his online advertising network Link Exchange to Microsoft for $265m.
Then he founded an online shoe business, Zappos, and sold it to Amazon in a deal valued at $1.2billion.
He's now 38 and is hailed in the US as one of the most original thinkers in business.
Like Branson, he hates conformity. His passion is creating, and keeping, an off-beat culture. In fact, he sold Link Exchange because he started to hate the atmosphere.
"I wanted to make sure the same mistake didn't happen at Zappos," he says. "Our belief is that if we get the culture right, most of the other stuff, like delivering great customer service or building a long-term enduring brand, will happen naturally on its own."
So how did he get it right at Zappos? The answer is pretty incredible.
Five years after founding Zappos Hsieh realised he needed to define the company's culture. So he emailed all the employees and asked for their input. He came up with a list of 10 core values:
1.       Deliver WOW Through Service
2.       Embrace and Drive Change
3.       Create Fun and A Little Weirdness
4.       Be Adventurous, Creative, and Open-Minded
5.       Pursue Growth and Learning
6.       Build Open and Honest Relationships With Communication
7.       Build a Positive Team and Family Spirit
8.       Do More With Less
9.       Be Passionate and Determined
10.   Be Humble
To retain these values he redrew his recruitment policy. Everything would be focused on getting the right people culturally – even if it meant rejecting some serious talent.
"Our recruiting team over time has gotten actually pretty good at figuring out whether somebody is going to be a culture fit or not. And we actually have interview questions for each and every one of the core values. And it's not necessarily what they say, but how they say it a lot of the time. And, over time, our recruiting team has really developed their gut in terms of whether what the right call is for a candidate. 
"We actually last year had over 25,000 people apply to work at Zappos and we only hired 250 of them, so about 1%. I think I heard the stat that it's actually harder to get into Zappos than into Harvard."
To some ears, this might sound eccentric. Indulgent. Absurd even. Yet you'll find similar policies at many high-performing businesses. Richard Robinson, director of Google UK, told me part of his hiring process was meeting other employees, to see how "Googley" he was. He passed the test.
All Soul's College, Oxford, the university's most prestigious college which accepts only the most outstanding graduates, has a notoriously brutal entrance exam. Famously it used to consist of only one word, such as "Memory" or "Innocence" or "Water". Time allotted: three hours.
The other vital component is the dinner. Four to six finalists are invited to dine with the fellows. After all, All Souls needs to foster the right culture.
Barcelona Football Club was described by the Dutch legend Frank de Boer as more like a cult than a club. If you don't fit in with the ethos, you won't last – no matter how good you are. Zlatan Ibrahimovic found that out. He was a big hit. Barca won the league with him as striker. They dumped him anyway.
Eton College and St Paul's School have a recruitment policy which other schools would find crazy.
"When it comes to hiring teachers, there is no house style," Eton's headmaster Tony Little has said. "We want people to be individuals, and we don't look for prescribed teaching methods or people who conform to a set formula."
At St Paul's the high master said: "We take massive risks with our teachers. Most of our science teachers are post-doctoral research people who have no teaching experience whatsoever."
But it works for these institutions.
So how can you create a buzzing company culture?
You could start by working out what your current culture is. Instead of Zappos' method of emailing all your staff for ideas, you could hire a Management Due Diligence (MDD) firm. When M&A activity is undertaken, MDD is pretty common. Firms such as Diligencia and Highwire Consulting will interview all the senior team and build a psychological and technical profile of the firm.
Some private equity houses, such as Palamon Capital Partners, even have their own preferred psychiatrists who refer their analysis to the board.
This might be overkill.
According to Geoff Fawcett, director at Hays, the leading recruiting expert, a simple four step process will do the job when making new hires.
"First, look at the strengths of your current team, and then at their weaknesses. Use career appraisals and the business plan for that team to help you.
"Second, work out the job specification. This needs to be included in the job specification. My tip is to make sure you inform applicants how much time they'll be spending on various tasks. Then they can arrive at the interview knowing what is expected of them."
"Then, during the interview process, get the candidate to meet the team they will be working with. At the Red Arrows they spend half an hour on the assessment, but two weeks with the people. For them this is the right weighting."
His fourth tip is to know what culture you want. Fawcett questions the notion that you will benefit from hiring clones. "Barcelona wouldn't work with 11 Lionel Messis. You need a mix of skills. My tip is when hiring you should have one candidate in three from a non-conventional background. If you don't do this, you risk creating static and uninspiring teams."
And he's got one final mastertip. Onboarding. "Building needs work. A new hire should have someone to guide them during their first 12 weeks. There should be a plan to help them with all aspects, from socialising to training. Firms often do one part of the induction well, but it is rare to see the aspects covered adequately."
Can Indoor Mini-Golf reveal a candidate's true character?
Dominic Monkhouse, EMEA MD at PEER 1 Hosting, has built an indoor golf course in the office to test the skills of would-be staff as an alternative to final round interviews.
Candidates are invited to take a putt on the green with a PEER 1 team member who assesses their strengths and weaknesses using a golf-style scorecard to see if they come up to par against key criteria, including:
• Have you got balls: do candidates opt for big shots? A hole in one approach or lots of shorter shots?
• Multi-tasking: can the candidate think, speak and play at once?
• Winning mentality: does the potential recruit compete hard or are they careful to let the interviewer win?
• On your game: can candidates sell themselves on the course?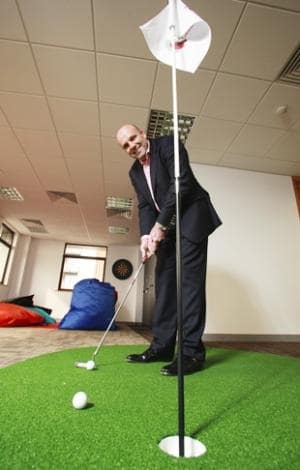 • Bouncing back: how does the interviewee cope with a miss? What is their response?
• Strategy & planning: how effective is the candidate's game plan and shot play?
• Adaptability: how do candidates deal with increasing levels of complexity and difficulty around the course?
Monk
house believes nothing shows a candidate's true colours better than getting competitive and a can-do personality is the only thing that will ensure his team provides outstanding service to customers.
He says: "There's nothing worse than sitting in a sweaty meeting room trying to get the measure of a potential colleague; fun is part of my DNA and I'd far rather enjoy a pleasant 30 minutes of gentle exercise to find the genuine big shots."
It's certainly better than the hiring policy of one investment banker who would begin by throwing half the CVs in the bin. His reason?
"I don't want to work with unlucky people."