Salaries in London for software engineers haven't kept pace with other world-class tech centres such as San Francisco and New York, a report by recruiter Hired has found.
The salaries included reflect more than 80,000 interview requests and job offers in a marketplace of more than 3,000 participating companies across the USA, UK, and Canada.
Take a look at these graphs that prove that the US beats the UK for tech jobs:
1. HOW DO LONDON SALARIES STACK  UP AGAINST OTHER TECH HUBS?
When adjusted for cost of living, an engineer earning an average salary in San Francisco would make the equivalent of £86,000 a year, while an engineer earning an average salary in New York would make an equivalent of £81,000.
Compared with London, where the average developer salary is £54,000 a year, San Francisco and New York salaries are 37% higher and 33% higher respectively.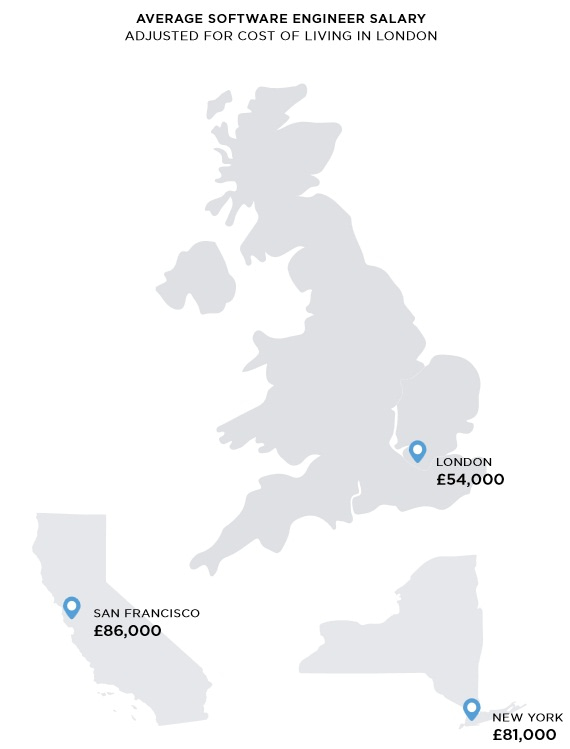 2. HOW DOES SALARY VARY WITH EXPERIENCE FOR DEVELOPERS?
The study found that developers' salaries increase relative to their experience overall, although this does depend on the size of the company, their funding status and hence, ability to pay market rate.
Junior developers with a year or less of work experience can expect to make an average of £39,000, whereas a mid-level engineer with 2 – 4 years of experience can expect a salary of £48,000 on average.
Senior developers and engineering managers with 6+ years of experience can command upwards of £60,000 although this can range up to £110,000 at larger businesses or for the most senior roles.
3. DOES COMPANY SIZE MATTER?
Data reveals that generally speaking, the larger the company the greater the salary offered. For early stage startups that can't compete with larger companies on salary, perks like flexible working hours or the ability to work remotely are important parts of the overall package that can help attract candidates. Many of the companies featured in this report cite these as perks that they offer — 18% offer flexible working hours, while 16% offer free lunches.
4. WHERE DOES LONDON  FIND ITS TECH TALENT?
The report revealed that although London businesses are hiring great talent in the UK, they are also very willing to recruit from across Europe too. 28% of UK placements were from other parts of Europe or in the US, with San Francisco-based candidates receiving the highest number of offers from London companies. European candidates were drawn primarily from Spain, Sweden, and France.
Now read: