Running a restaurant comes with its share of costs. The lease, utilities, inventory, licensing costs, equipment upkeep, staffing, and accounting services (that's just the tip of the iceberg) combine to create a laundry list of expenses threatening to eat into your revenue.
As a business owner, it's your job sometimes to brainstorm creative ways to add income to your restaurant. This post offers five income generators to consider as you undergo the brainstorming process.
Host virtual restaurant concepts
As you're probably aware, the virtual restaurant model surged in popularity during the pandemic, thanks primarily to an uptick in delivery app users. What you might not know is that your restaurant can benefit from that surge in popularity.
Virtual restaurant concepts are always looking for a physical kitchen to help fulfill orders. Your restaurant can create a new income stream by fulfilling delivery orders for a virtual restaurant using your existing staff and space. By doing this, you ensure that your kitchen real estate is always put to full use.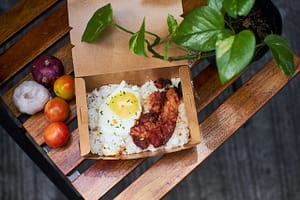 Credit: Jeff Vinluan Via Pexels
Sell branded merchandise
You may have conceived of your branding as a way to attract customers – to support your core revenue, that is. But if your branding is compelling enough, it can become a revenue stream in its own right.
Consider selling branded merchandise like t-shirts, tote bags and beer glasses. Not only does branded merchandise generate income, but it turns your loyal clientele – who wear your branded shirt or shoulder your tote bag – into brand ambassadors, walking your advertisements around town.
Create a restaurant cookbook
Creating a restaurant cookbook accomplishes three things. First, it generates income (the gist of this article). Secondly, it positions your restaurant, and the chefs at its helm, as locally established authorities. Third, the success of a cookbook can further popularize your restaurant.
Case in point: Before Andy Ricker's Pok Pok book came out, his restaurants enjoyed local notoriety. After the cookbook release, Ricker's restaurants – also called Pok Pok – rapidly garnered attention, opening new locations in several cities.
Allow kitchen takeovers
You may also consider "restaurant takeovers." A restaurant takeover is when restaurant brands use your commercial kitchen to prepare food – either for delivery, hospitality settings or events.
Like hosting virtual restaurant concepts, this entails allocating some real estate to another business. The difference here is that you do not need to use your own staff – a new staff "takes over" your restaurant. This can be particularly fruitful if your restaurant closes during peak hours (i.e., lunch-only restaurants, weekend-only restaurants, etc.).
Offer take-and-bake meal kits
Finally, "take-and-bake" meal kits can be an excellent way to make the most of your commercial kitchen. Prepare and freeze easily re-heatable meals (lasagna, enchiladas, shepherd's pie, etc.) in tinfoil containers that customers can grab when they want a leisurely meal at home. You can market it as a restaurant experience customers can enjoy on a weeknight.
Whether your restaurant was hard-hit in the past two years, or you're simply looking for new money-making opportunities, try one of these creative income generators.