Case management can be dynamic and challenging for any UK law firm.
Time management is one of the biggest problems you face in your practice.
According to Legatics, 92% of lawyers have experienced burnout due to the huge demands of their jobs such as having to work long hours to meet the needs of time-sensitive cases. Due to this workplace-related stress, you become susceptible to errors which can plummet your case win rates.
With legal case management tools, you can manage cases more efficiently and effortlessly. 
These products improve time management through more efficient collaboration between attorneys. They also streamline data collection and task tracking to avoid work duplication.
This frees up more time for case preparation, thus increasing your likelihood of winning cases and any resulting financial awards.
In this article, I will take you through the 5 best legal case management software for law first in the UK that will improve your firm's productivity and revenue potential.
Let's get started.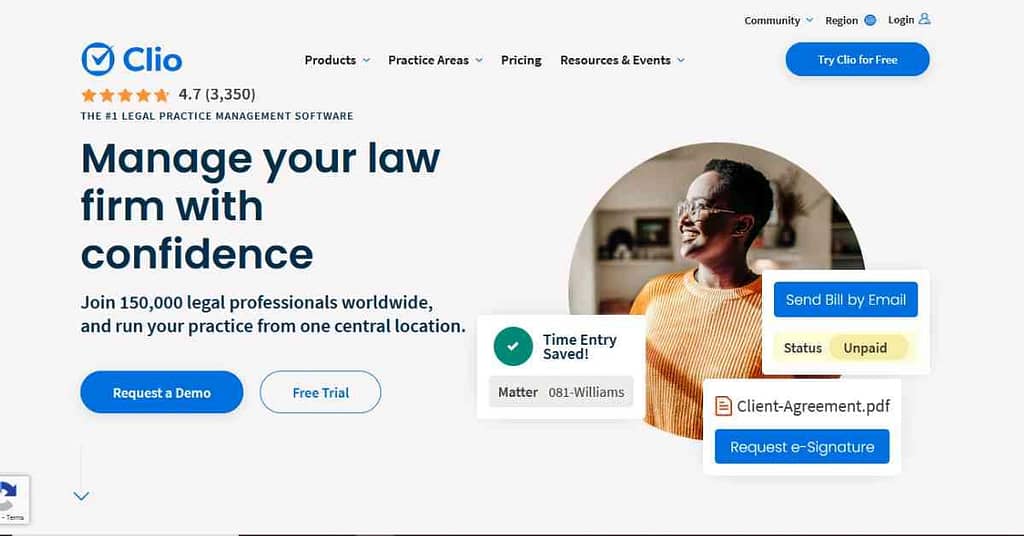 Clio is a legal practice management software with comprehensive case management features.
It is a popular law firm management software across the UK, as it helps to manage case files as well as other vital practice processes.
Here's a look at some of Clio's top features:
Case management: A centralized dashboard gives you access to all vital case information in one place. This reduces the workload and time spent on preparing cases.
Mobile access: Clio gives you access to client contact information, documents, and other data via mobile, freeing up movement and enabling multi-tasking.
Software integration: You don't have to tediously move data from your current software into Clio. It has software integration features, compatible with Dropbox, G Suite, and Outlook, allowing you to transition quickly.
Virtual meetings: Clio also allows you to hold virtual meetings, which reduces the time, effort, and money that your firm spends on traveling and communication.
Contact management: You can accurately track clients and their details. This eases follow-up to help quickly spot conflicts of interest and other issues.
If you'd like to get familiar with one of the best legal case management software, you can schedule a demo right. This demonstration will offer a personalized product walkthrough, leading up to your free trial.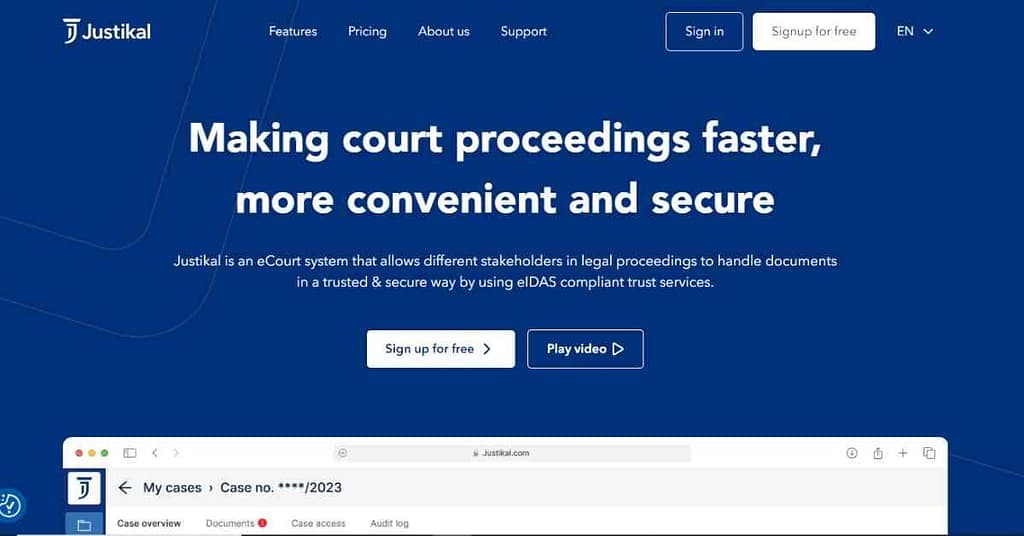 Justikal is an eCourt system that is revolutionising how solicitors work.
Justikal is the only solution designed for the Justice System, capable of validating electronic signatures and electronic seals in compliance with Article 46 of the eIDAS regulations. This is of paramount significance in today's digital era, where digital signatures are fast becoming the standard.
Some of Justikal's highlight features that make it one of the best legal case management software include:
Digital transmission: With Justikal, you can digitally deliver documents to courts. Therefore, you save valuable time and money not having to physically transport documents.
 Client access and automatic notifications: With Justikal you don't have to individually brief clients and colleagues. Users have the ability to monitor their cases and stay updated on any developments.
 Electronic seals: Enabling users to meet deadlines more conveniently with qualified timestamps.
Better overview: The system provides a better overview of all your cases and case documents in one place. Everyone has the same overview of all case documents.
Document search: Using OCR technology, the software makes documents searchable, consequently allowing you to retrieve case data quickly and meet your deadlines.
Document eSigning: You can sign documents in the system to make them legally binding in Europe. This feature minimises signing errors thereby saving you from reprinting lengthy documents.
 Personal annotations: Users can annotate and mark important sections or make specific notes directly on the documents in the system.
A prerequisite for providing the service in a new market is getting formal approval from a local government to accept court documents sent using Justikal.
To experience the convenience and efficiency of Justikal's legal case management software, please reach out here and discover how they can transform your processes.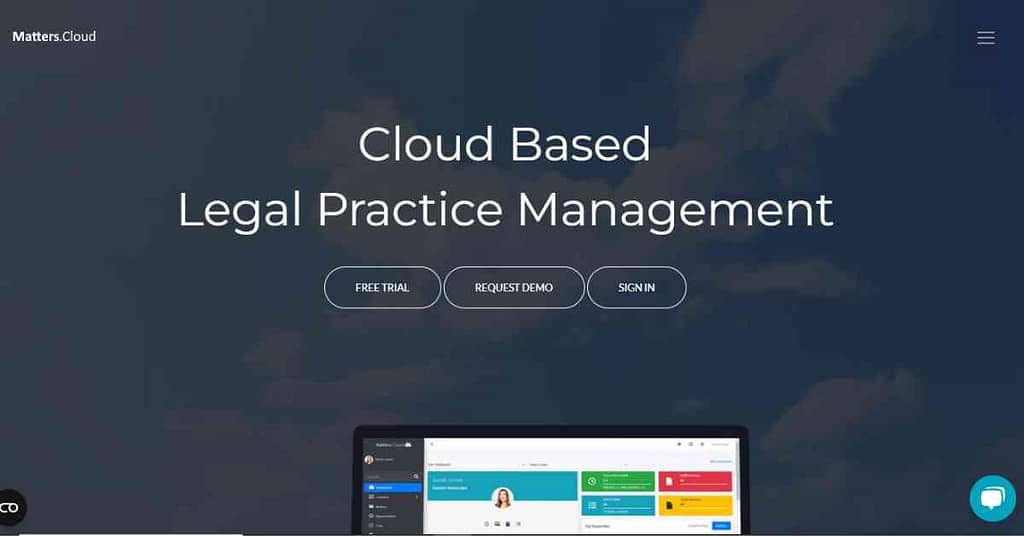 Built on cloud technology, Matters.Cloud offers scalable legal practice management.
From nurturing client relationships to case management, this platform makes for one of the best legal case management software for UK firms if you prefer a one-stop solution.
In terms of capabilities, here's an overview of key Matters.Cloud features:
Case management: This software provides a complete and up-to-date matter overview, arming you with the information to meet all your deadlines.
Legal billing: As a lawyer, this tool allows you to accurately capture all your billable hours to maximise your earning potential.
Document management: Matters.Cloud provides intelligent mail filing and document automation tools, and integrates with commonly used systems including OneDrive and NetDocuments.
Calendaring and tasks: You can configure task details and due dates, and doing so streamlines collaboration with your colleges for quicker case turnaround.
Client relationship management: By giving you accurate and complete client information on one dashboard, Matters.Cloud allows you to build quality client relationships to improve client satisfaction and loyalty.
If you want to take Matters.Cloud for a spin, start a free trial today.
The best part about this free trial is that you don't need a credit card. What's more, you get an entire month to explore all its legal workflow automation features comprehensively.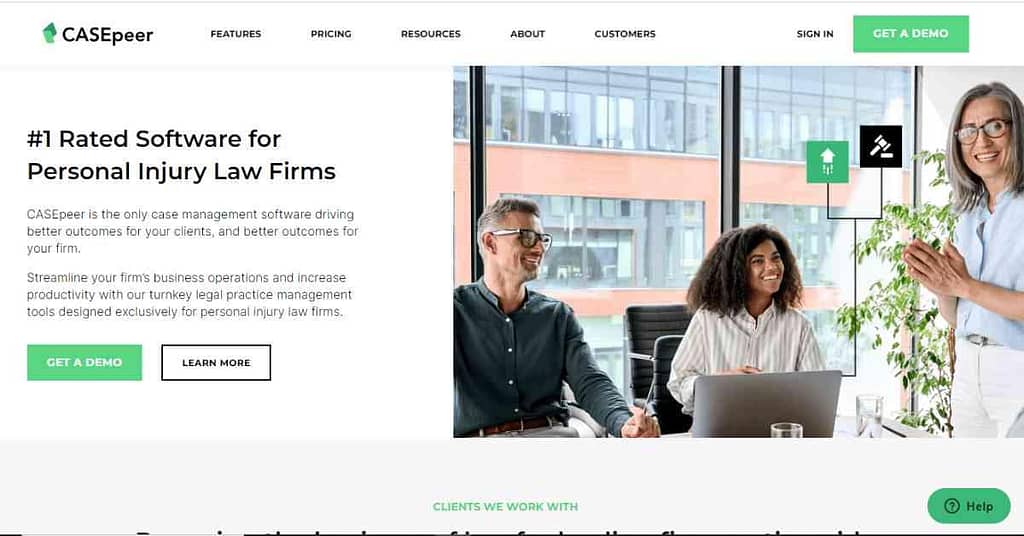 Next up is CASEpeer, which is especially geared toward personal injury law firms.
If you're a personal injury attorney in the UK, this is the best legal case management software to help you manage case files better and calculate accurate settlement amounts with greater ease.
CASEpeer has many useful features, and some of them are:
Medical treatment tracking: With CASEpeer you can track important medical information to void insurance companies lowballing your client and ensure a fair settlement amount.
Document management: The software also offers paperless document automation to improve efficiency and lower your practice's storage costs.
Cost-tracking: CASEpeer also integrates with your accounting tools to ensure the recovery of every out-of-pocket cost you incur on all your cases.
Calendar management: This software allows you to sync with various calendar tools. The event calculator keeps you on top of vital case events so you're always well-prepared.
Task manager: Inefficient task management ends with CASEpeer. It enables you to assign tasks and set their priority levels and deadlines. Consequently, it becomes easier for you to work multiple cases concurrently.
You can learn more by reserving your CASEpeer demo today. This demonstration will give you a proper feel of how you can realize simpler and more efficient end-to-end case management with intelligence software.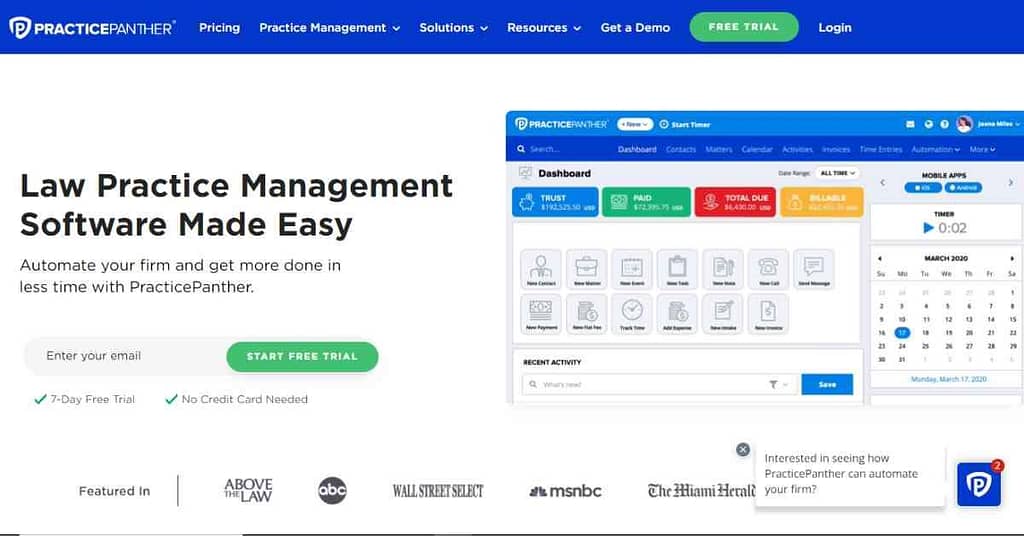 PracticePanther is ideal for law firms that practice multiple specialties.
For UK law firms struggling to juggle multiple cases, PracticePanther has capabilities designed to solve the challenge of working cases with competing deadlines.
PracticePanther ranks among the best legal case management software for the following features:
Case management: You can access and manage case files from any location with PracticePanther's cloud-based software, making you productive and efficient throughout.
Document management: From auto-filling client data to sending documents for e-signatures, PracticePanther offers some of the best document management features that free you from administrative tasks for higher-value work.
Accounting integration: The software also makes your accounting experience easier and compliant with UK standards, hence eliminating the risk of penalties.
Calendaring: The calendar feature ensures you never miss court dates, appointments, or intake meetings. Consequently, you never waste time or resources.
Security: PracticePanter has military-grade protection technology. This ensures compliant client data storage, as well as protecting sensitive client information from accidental leaks and breaches thus preserving case integrity.
The good news is that you can try PracticePanter for 7-days at no cost at all. You'll get to explore premium features that will turbocharge your workflow across all your fields of practice.
Conclusion
Many established law firms in the UK are experiencing losses.
This is evident from PWC's annual law firm survey of 2023, which revealed that 44% of the UK's top 100 firms reported declining profits. Poor case and practice management, stemming largely from manually driven processes, has undoubtedly been a massive contributor to the problem.
If your practice aims to raise efficiency, case win rates, and profitability, you need to use the best legal case management software.
Clio is great if you are looking for features such as virtual meetings that can further kick up your firm's productivity. Justikal is also a great choice for improving collaboration. The same goes for Matters.Cloud which offers a wide range of practice management features in addition to a long trial period.
You should try out these tools today to determine how you can increase client satisfaction, attorney productivity, and your bottom line.
Here's to productive and efficient legal practice.