The FinTech industry has grown a lot in the past few years. In this article, Adam J Clarke of Macropay weighs in on the topic to dissect different perspectives on how FinTech is shaping banking today.
FinTech has shifted from being a term used by finance pundits to discuss trends in the world of e-commerce, to being used daily by individuals who know all about digital payment systems.
Various important questions arise when fintech and banking are on the same table. Often, certain questions are tackled by analysts and thought leaders in the financial service industry in light of recent developments. These questions include: What does this surge in adoption mean for traditional banks? Will the growth of FinTech companies mean the collapse of traditional banks? What will be the import of the FinTech disruption in the banking sector?
Let's answer those questions and unpack the very direct effects of fintech in the banking industry.
Overhead cost and ease of use
The report on the rapid adoption of FinTech solutions as an alternative to traditional financial services will not be complete without infusing the events of the recent global pandemic. The relative ease with which transactions, including cross-border payments, were processed during this period opened the path to mainstream adoption by merchants and customers.
FinTech companies are more efficient in executing transactions at a highly reduced cost to the user. This is a land sliding advantage as merchants are more poised to adopt options that save them a lot of overhead costs and processing fees. This is further strengthened by the accessibility of financial services, a process that would otherwise have been buried in bureaucratic protocols in traditional banks.
Technology
Traditional banking has always relied on technology to carry out its functions. But its functionality is greatly limited by its failure to leverage new tech to improve its services and products.
This is where FinTech swoops in to save the day. Not only do FinTech solutions collect data from all users, but they also utilise technologies such as machine learning to analyse these data and predict customer behaviour. Why is this important?
It provides the insight needed to improve and even personalise users' experiences. Additionally, API technology and RPA software have been integrated into FinTech processes and completely changed the way business is conducted.
Inflexible policies and regulations vs Inclusivity
A major distinguishing feature between traditional banks and FinTech companies is in regulation and their operational policies. While banks are known to be inflexible in their policies, FinTech companies are more inclusive.
For FinTech users, there is a personalised payment plan for you, loan options without stiff collateral requirements and smart credit scoring using AI. While these are appealing features, the absence of strict regulations raises the question of the security of money and transaction details which is less of a concern with traditional banking.
Customer trust
This is perhaps the biggest challenge for FinTech companies. Many individuals, especially older ones, have little trust in the security and longevity of these startups.
Instead of disrupting their core systems, banks have taken advantage of the growing market size of FinTech startups to pursue mergers and integrated services like open banking. Banks weave some of their new microservices around FinTech to optimise their workflow.
This helps them retain customers and restores trust among users of different demography. This complementary functionality preserves the banks and strengthens the FinTech stronghold.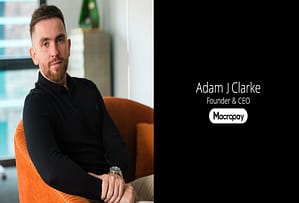 In conclusion, realities have changed, and the expectations of users have equally morphed. But due to their co-dependency, it is unlikely that banks will become outdated. However, banking products and processes as we know them today will be replaced with better processed thanks to technology. To satisfy customers and continue operations, banks must reinvent themselves and their offerings to stay competitive.
At the heart of all this innovation is Adam J Clarke and his FinTech company Macropay. As a leading financial technology service provider in Europe, both its founder and the organisation are going after the vision of revolutionising the payment industry for the better.
 For more key insights into FinTech, access their resources through www.macropay.net.