Britain's business prowess is world-class. The stats below prove it.
But what do British businesses need to harness growth?
This is what 150 top entrepreneurs will be discussing on 18 November 2015 at the second Dynamic Enterprise Summit.
The four key topics that are going to be tackled on the day are:
Boosting enterprise (supported by Smith & Williamson);
Talent and skills (supported by Alium Partners)
The future of tech and using digital to drive growth (supported by RBS)
Financing business growth (supported by Everline)
The event is not just about tackling business issues but also about celebrating successful businesses. Check out the stats below to fathom just how enterprising British businesses are:
1. There were an estimated 5.2 million businesses in the UK which employed 25.2 million people, and had a combined turnover of more than £3,500 billion
2. FTSE 100 boards have made enormous progress in the last 4 years, almost doubling female representation to just shy of 25%
3. Investors have pumped £1bn into London's tech sector in 2015
4. Small and medium sized businesses employed 15.2 million people and had a combined turnover of £1.6 trillion
5. UK businesses could gain additional £18bn revenue from apprenticeships
6. Talent shortage costs UK economy £10bn a year
7. There are 47,000 digital technology companies in the UK
Want to attend London's most exclusive business event on 18 November, 2015?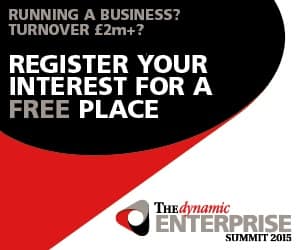 8. An increase in bank lending to businesses is forecast for 2015 – the first rise since in lending since 2008
9. Small businesses that export are 11% more productive
10. Small businesses represent 47% of private sector turnover and 60% of private sector employment
11. More than a million digital technology jobs were advertised in 2014, a 28% rise on the year before
12. 54% of small businesses use finance to help them grow
13. The government is aiming to get £1tr of exports by 2020
14. There were 440,000 apprenticeship starts in England – 53% of apprenticeships started were by women (233,000) and 47% by men (207,000)
15. 98% of digital companies are small business
16. For those SMEs applying for bank finance, approval rates are around 80% for smaller businesses and 90% for medium-sized. The second quarter saw 31,500 loans approved for SMEs
How can Britain produce more dynamic businesses? Find out at Dynamic Enterprise Summit 2015 on 18 November, 2015
Thistle Marble Arch, London W1